Abdul's k24 or k20 Swap build/Guide with Complete Wiring diagrams
---
Hello there, this is about swapping a k24 or k20 in a Crz. In this swap a k24a2/a3 is being swapped. Purpose to do a K24 swap is that it is a lot cheaper than k20 and has more torque and is at 200 Hp and has very much potential to go up in Hp range very easily, plus is boost friendly as it has 10.5:1 CR.
Until recently ( Nov 18,2017) HAsport only made mounts of K-swap(k20 only) for either Civic Si(k20z3) transmissions or DC5 ones which added to swap cost as they are very expensive. If you were to use a k24 block, you would still need a k20z3 or a K20 DC5/RSX-S transmissions. But now HAsport makes mounts for CRZ which support k24 transmissions (TSX 6 spd, Civic si 2012-2015).So now a complete k24 swap can be done in very less $$$$
Estimated Project cost will be 4500-5000$.(Can go up depending upon labor of shop). This will be very feasible alternative to SC or Turbo kits available for Crz which cost from 3000-5000$
Costs:
Engine k24a2/a3 with 6 spd manual transmission 1500$-2000$
Shifter & cables= 150$
https://www.ebay.com/itm/2006-Honda-...EAAOSwYyxZf5NL
HAsport Mounts for k24 (now they make them) 700$ (You have to mention k24 and its transmission type when placing order)
Flashpro: 700$
Axles: 500$(HAsport crz for k24, tell them to ship the k24 ones as the k24 half shaft is 2.5" > k20 )
Or you can buy Insane shaft axles which are rated for 500 hp ,I contacted them and they got data of axles from Hasport (Thanks Brian for sharing data for our sake).So now you can get those in 350$ instead of HAsport 500$ and more strong also than HAsport.
K20 idler pulley optional: 40$(If k24 have hydraulic Power Steering pump pulley and you don't want to use that, just disconnected the hydraulic PS lines but keep the pump and pulley there for belt sake, will save you Idler pulley as well as new serpentine belt cost)).but will require a slight modification in power steering pump so that it doesn't get jammed running without any oil in it.
Civic Si wiring: 120$
Si ECU+ Ignition key=190$
Custom 2-2.5" exhaust=??
Headers OEM k24
Civic Si primary O2 sensor=120$
Secondary o2 sensor=Optional.
Radiator OEM (its more than enough, we have three k20,s and two 24 running with OEM crz radiators and are just fine, temperature remains 90-94 C.
Misc=IAT sensor, wiring grips (If you don't want to use your Crz one's)=50$,coolant 4L,oil etc
Spark plugs can use the ones that come with engine(k24 or k20,BKR7EIX) but I advise new: 35$
Tune: you can use any base TSX/Si map given in Flashpro calibrations
Honda dealership matching of your new immobilizer key and civic Si ecu=50$ ?
Intake: Can use that comes with new engine or just a short ram with K&N filter =50$
Cost:4600$
Swap shop labor if you don't have engine stand=? 400-500$ ??(shops here cost 120$ for whole engine swap)
The purpose of this thread is to do almost all work as D.I.Y and at end if you don't have engine stand to put the engine in/out than you can go to a shop to put engine in just in few hours.
As labor is not so cheap in some countries and they cost per hour bases, so purpose of this build is to get most work done before going to workshop for final engine swap.
Some of you may know me for my Honda Fit Hybrid k20 swap.
Here it is.
It had same LEA Mf6 engine of a CRZ and the wiring of it was copied from a k20 swap crz but was never documented in detail. To date the wiring of CRZ k20 is difficult but it is about to become real easy.
In Pakistan first k20 Crz wiring was done by electrician M.Anwar in 2013. It took him near 2 months to do so as at that time very little support was there about the swaps in modern OBDII cars, yet a hybrid. The fist CRZ was done using two ecu method. The OEM k20a ecu using kpro and a crz ecu.
2nd crz was done by using single ecu of Civic Si USA(2007-11). This method is superior as it has functional OBDII port and the gauge cluster, ABS etc works. Still no documentation was done.
3rd was my car.
here is the
thread about its swap
Although I wanted to document the wiring in detail in that build but I failed to do so because it was really complex and i was a beginner in this field.
At that time I promised to myself that I will document it so that its easy enough to do as D.I.Y and the one doing swap is prepared for what is required and what problems he will/might face, like AC compressor hitting chassis and break booster hitting the engine, Radiator fans hitting the intake manifold etc. If you have an automatic CRZ than don't worry either because I will document all the method from CVT to a manual conversion and it very easy because even in a manual crz you will have to use the new shifter of civic si/tsx and cables. so only thing remains for a cvt is to add a used clutch paddle from a Honda CRZ/Fit/jazz/City/Civic along with its respective cylinder. Conversion will not cost more than 200-300$.
So with no further delay lets start
In the name of Allah, the Most Gracious, the Most Merciful
English is not my language so I apologize for any spelling and grammar mistakes.
Special thanks to Mr.Anwar and Ustad Danish who helped me when I needed.
Here is crz I bought recently for the project. Its a 2010 MT.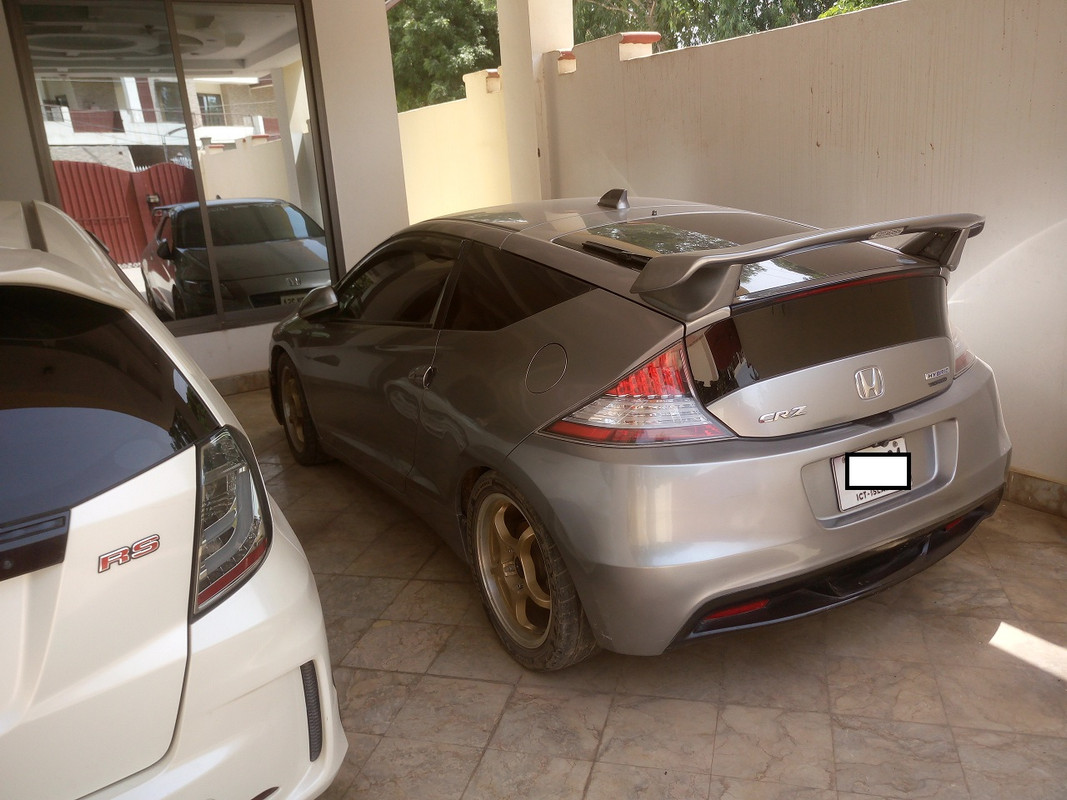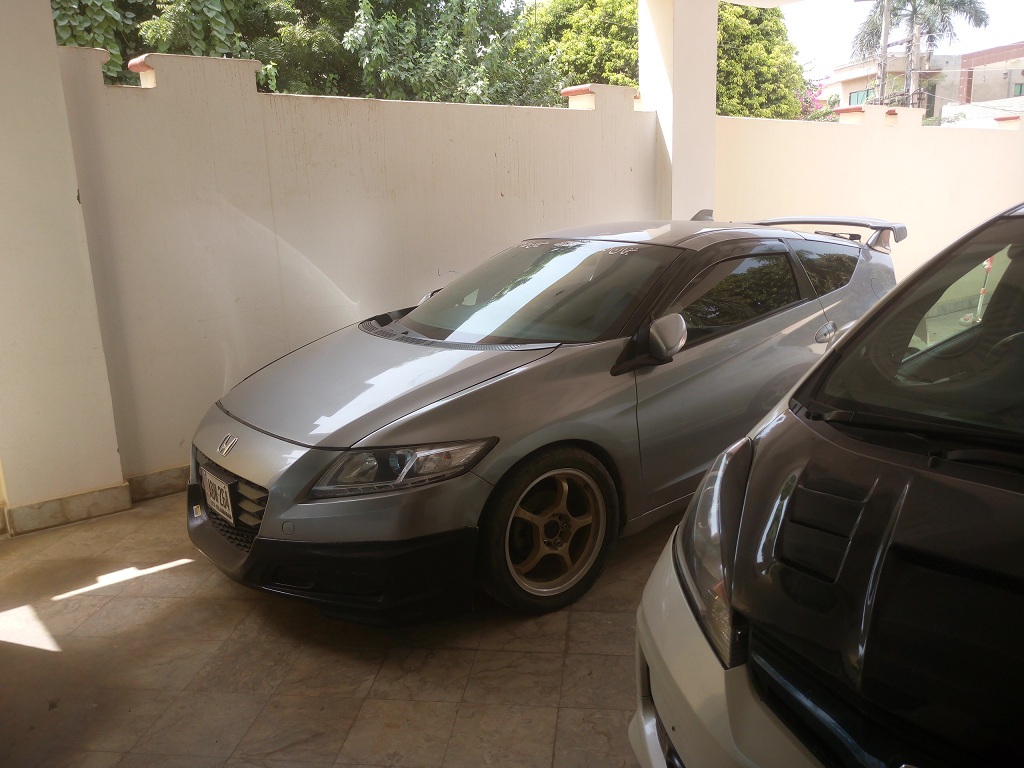 Here is the k24 engine for swap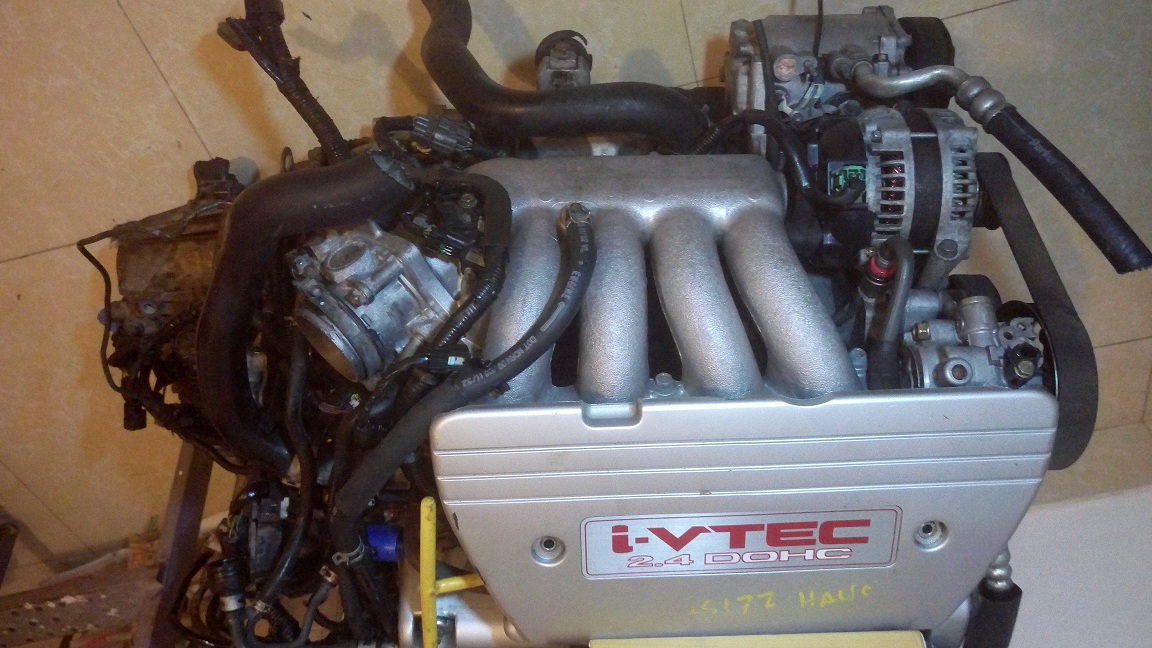 This thread will mainly focus on doing all the work prior to engine installation into engine bay. Goal is to swap k20/24 in just few hours.
There are some sensor grips and main wiring grip you need to buy. Its better if you have a junk yard nearby. If you want to use a k24, than you will have to change oil pressure sending unit, Knock sensor grip, Crank sensor grip.(All these can be used of your Crz engine, but if you plan to return your crz to stock in future and don't want to use any of its parts than you will have to find these from a junkyard or ebay etc). You will need IAT sensor and its grip.(The crz uses MAF sensor which has IAT sensor integrated into it ,so you will have to buy it, I will give its details in sensor wiring section)
As JDM models don't have Hill assist so at this time we don't know if it poses any problem in a k20 swap crz which has it.
I will cover each section of build separately but emphasizing most on how to do wiring on your own.
Here are the link to quick navigate to the pages..
Sensors sweap and sensors wiring connectors modification and engine preperation depending upon engine
Page 1
Break booster,oil pump,HAsport mounts and instructions
Page 2
Engine preperation,clutch,flywheel installation etc etc
Page 3
Alternator and starter wiring,immoblizer,pinouts etc
Page 4
Main wiring,vss wiring,O2 sensor wiring etc etc
Page 5
Axles, halfshaft,Shifters and calble, engine swap and fuel lines and their adapter sizes, some wiring
Page 6
Exhaust and gearbox modification
Page7
Turbo k24 Sidewinder CRZ build
Page 7 & 8
Page 9:
Turbo feed,retun,oil pan modification,fuel pump,fuel injecotrs(FIC 1000cc)
Page 10
The Return Fuel setup,FPR and Fuel Lines
I also have updated Dropbox folder regarding all the offline save of this build upto page 7 of this build.I advise download and save a copy of that becasue some time pictures get deleted from hosting sites.
Dropbox folder
Select option 'Download" on top right corner and it will download as a Zip file.extract and open.its 128 mb download uptill now.
---
''Impossible'' itself says: 'i' 'm' 'possible'.
So never give up hope..
oil pressure sensor,vtec oil pressure sensors,Crank sensor
---
So lets prepare the engine 1st by replacing the sensors which are compatible with Civic Si wiring.
1st thing you should buy the engine.When it arrives inspect it for any broken sensors during shipment.So you may need to order those sensors too.
The sensors on backside of engine which need replacing/replacing the grips/re-pin the grip are Oil pressure sending unit,Vtec oil pressure switch,Crank sensor.
Before this all, i advice you buy Civic si wiring,so that installing new Grip/Sensor you will verify that the wiring plugs into it fine.
Oil pressure sending Unit
Located just above oil filter. If you have k20z2/k20A engine than you don't have to change this unit. But if you are using k24a2,a3 or else you will you will see such unit which your civic si wiring plug won't plug into.
the sensor being replaced is most common Honda oil pressure sensing unit.found almost on many if not most Honda/Acura cars.I found it from Junk yard.You can use your CRZ engine one also.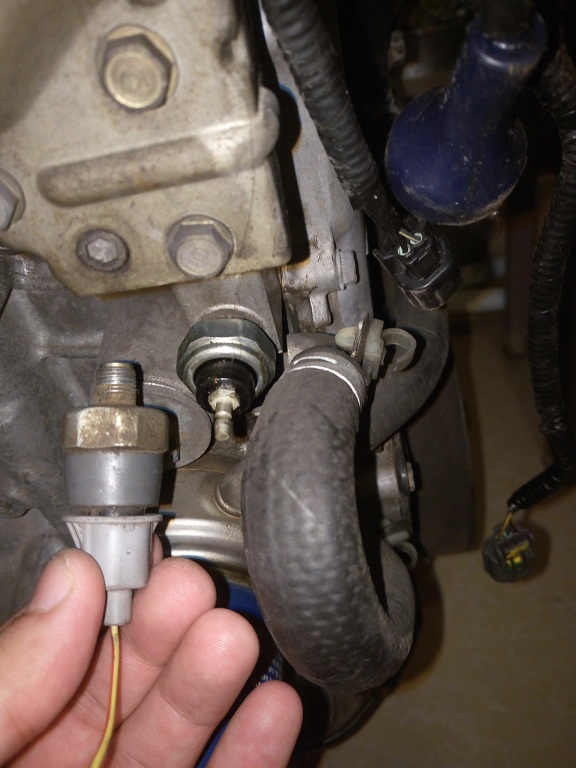 Difference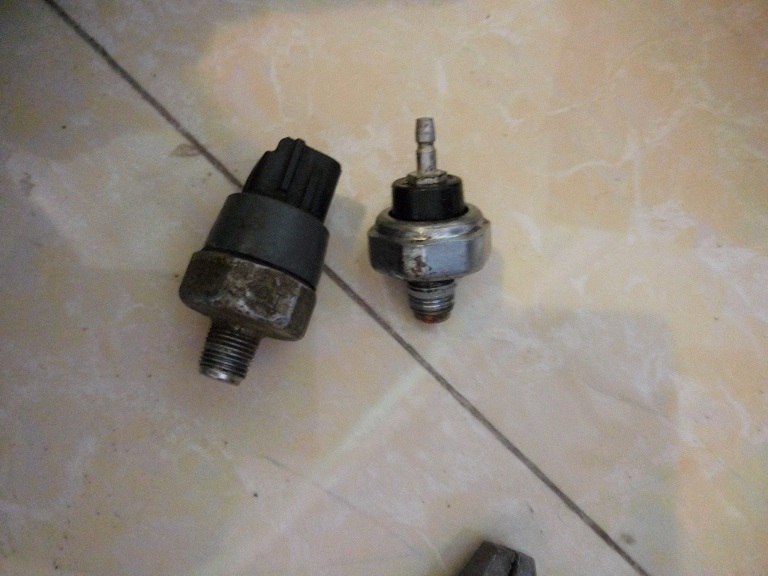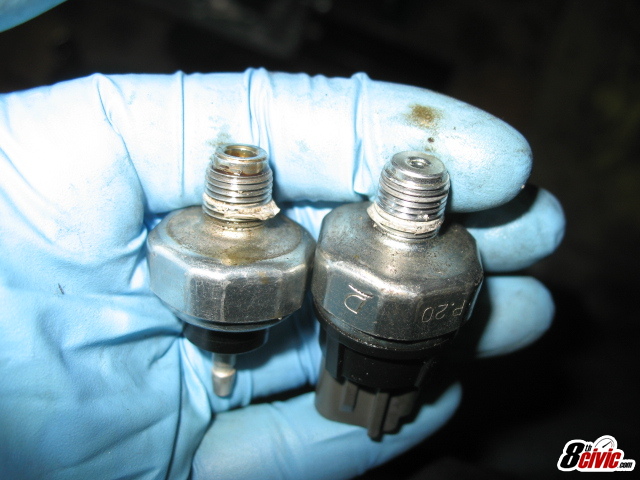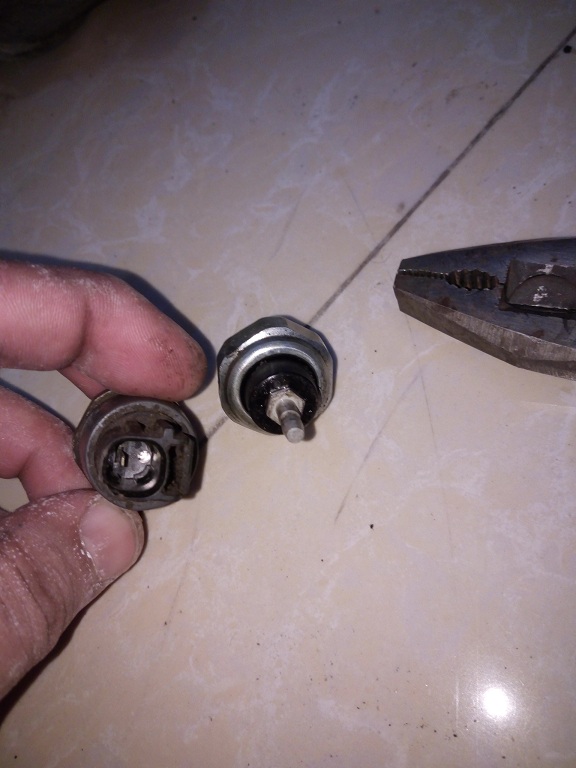 But for opening the sensor you will have to remove the exhaust manifold and its schild,because there is no space for the opening wrench to spin.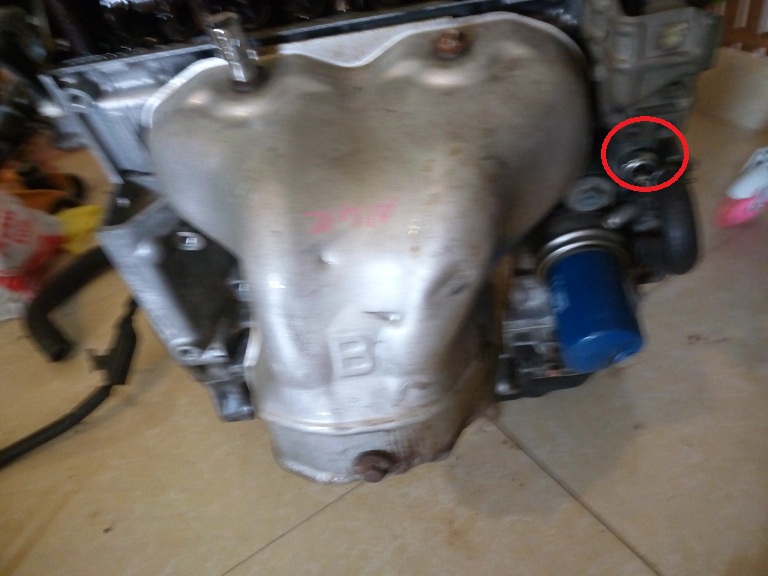 You will need 24mm wrench for it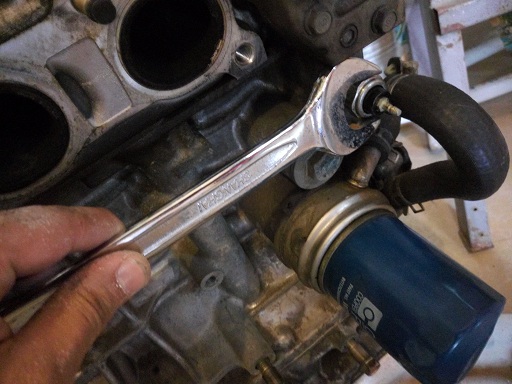 If you engine came with an oil cooler,its oil pipe will hinder the new oil sensor location. A slight tapping with a hammer will be all that will be needed to clear the space.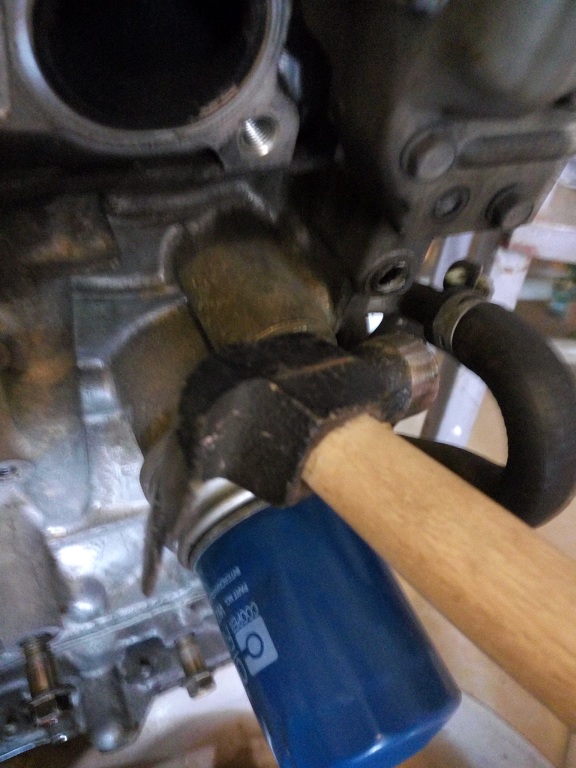 After the sensor is installed.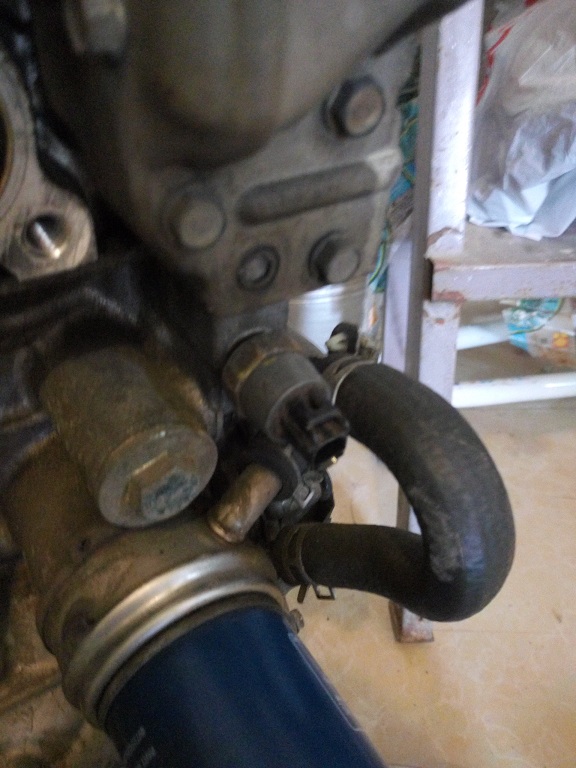 When installing the new sensors/grip verify by plugging your Si wiring
Knock Sensor.
(Front side of engine behind the intake manifold)
If you have k20a/z3 than you don't need change anything. If you have k24 than its got different knock sensor but both work the same and are interchangble. Only thing needs changing is the wiring grip. Easy way to do is cut the Crz wiring knock sensor grip and attach it to civic si wiring.
Left k24 knock sensor. Right k20A/z3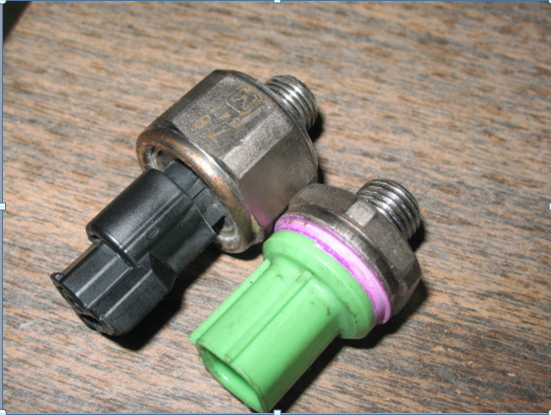 Grips,Left is common Honda knock sensor CRZ/k24, right is k20a,k20z3,k20a2,dc5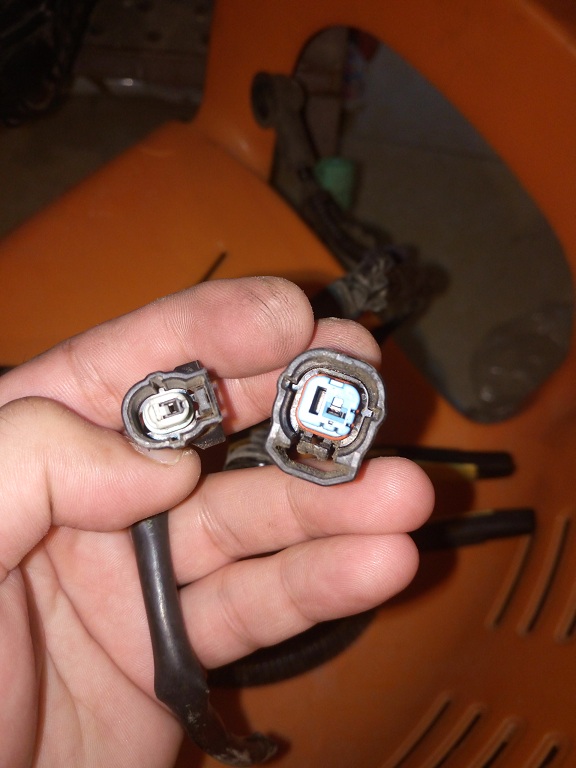 Instead of cutting my crz wiring grip I found a grip from junkyard.
Common Honda grip Left, K20 Right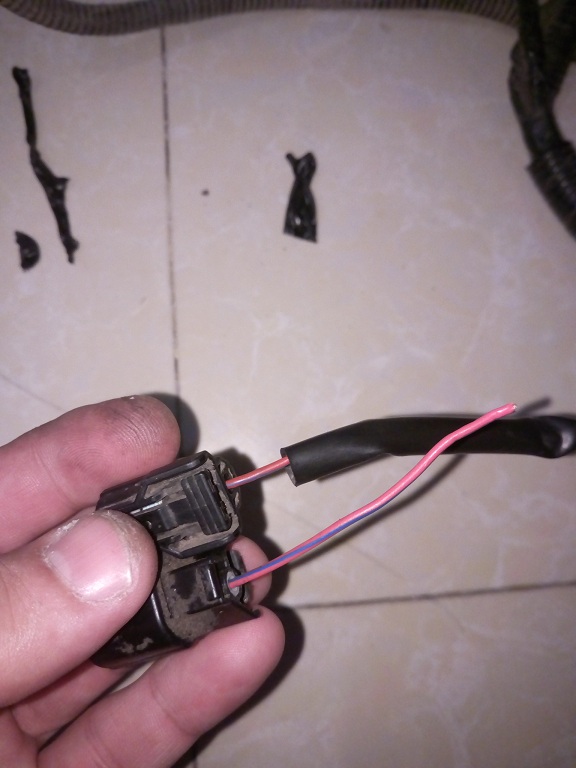 Tie and solder it to Si wiring,you can cut the grip of your CRz wiring.its same as k24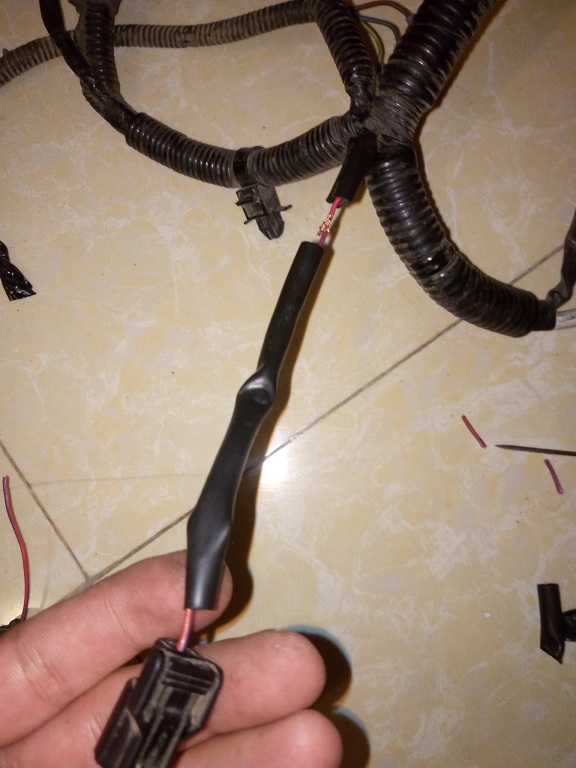 While you are working at front side of engine its wise to replace the water body jacket which is pointing upward in pic below.This is k24a2/3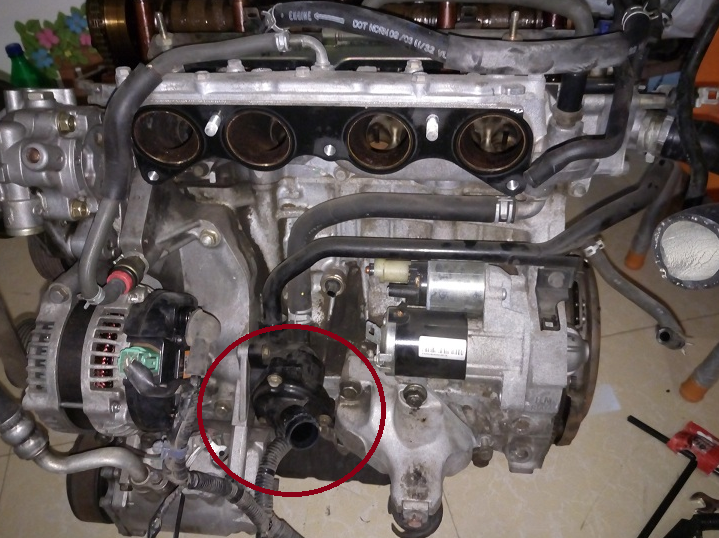 The problem of having this is the the radiator hose will have to bend at 180 degree and than come down to the radiator.which i found was hitting my radiator fan and one time radiator fan hit the radiator causung it to leak. Plus it will be difficult to find the hose which will ebdn 180 degree and come down. The easy solution is
http://k-tuned.3dcartstores.com/Swiv...nal_p_154.html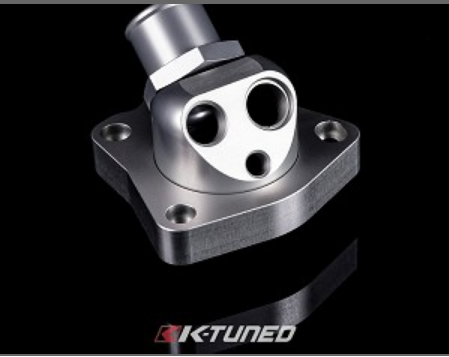 The beauty is that you can arrange this in any direction you want.which will be downward toward the radiator.But its 170$
So i have found an alternative from Aliexpress which work equally good.I am using this both in my
CRZ(k24) aswell Honda Fit(k20)
Its only 34$ and quality is very good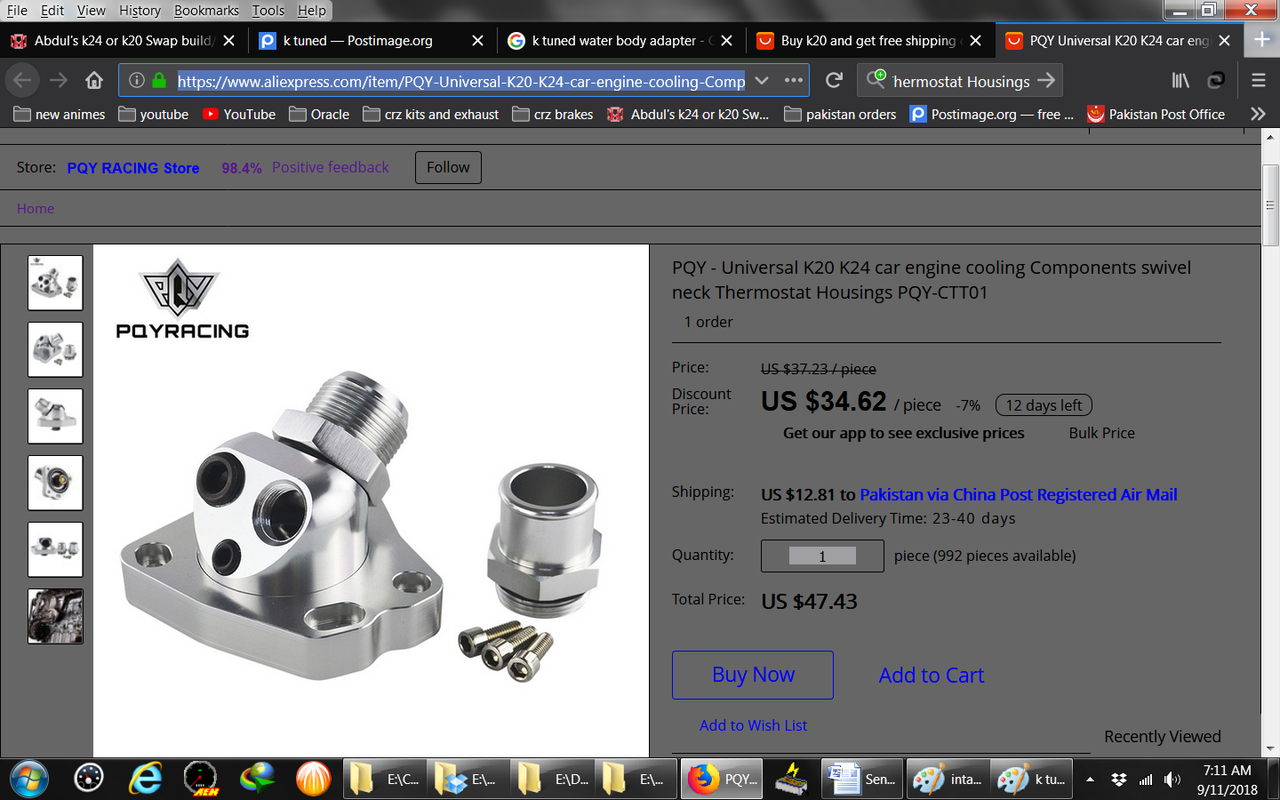 Plus you can add your Coolant temperature guage sensor it it.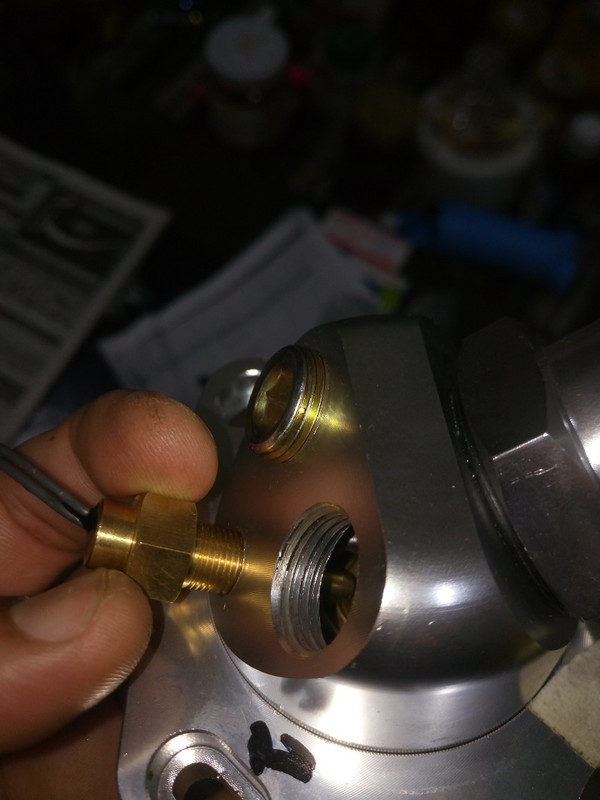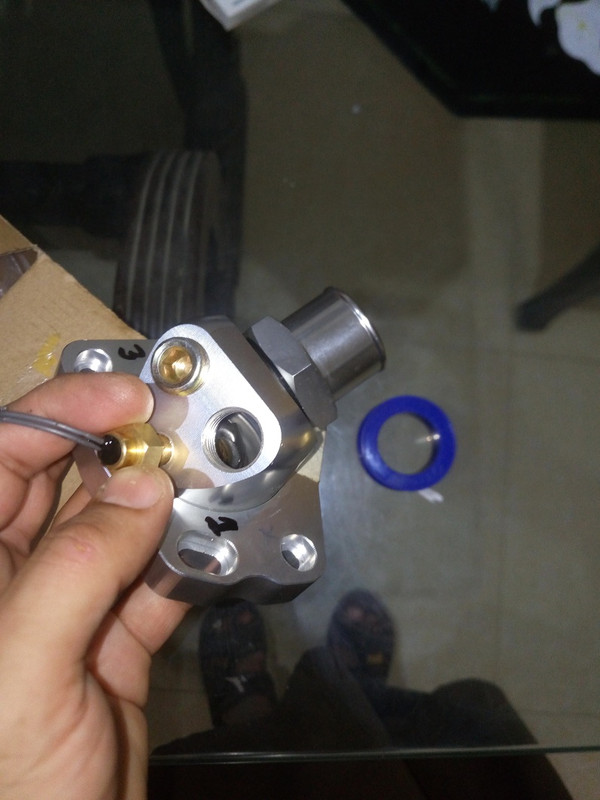 Final pic with it pointing downward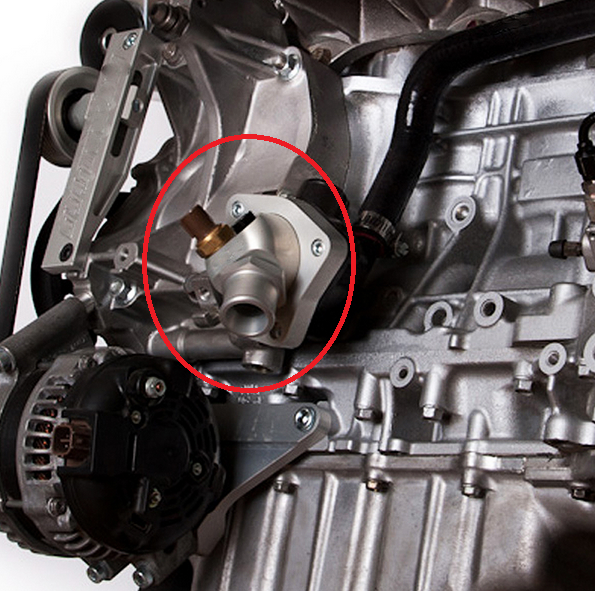 One slight suggstion if you intend to install your coolant guage sensor in this housing.The slight problem is that the guage port which is specific for this is not on right location.i mean if we install it in that port the sensor touched the thermostat valve inside of housing.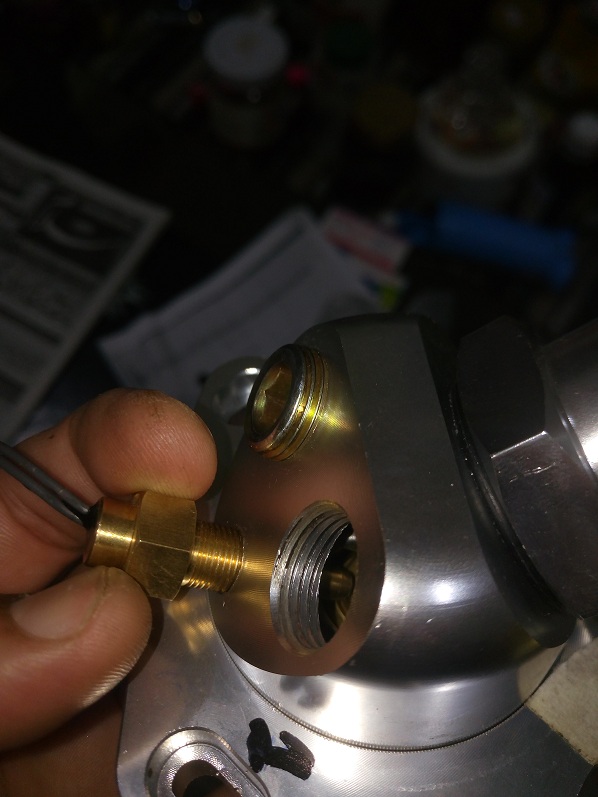 I went to machine shop and made them a hole in a screw for my water sensor.The screw used was the common transmission drain bolt on most Honda transmissions.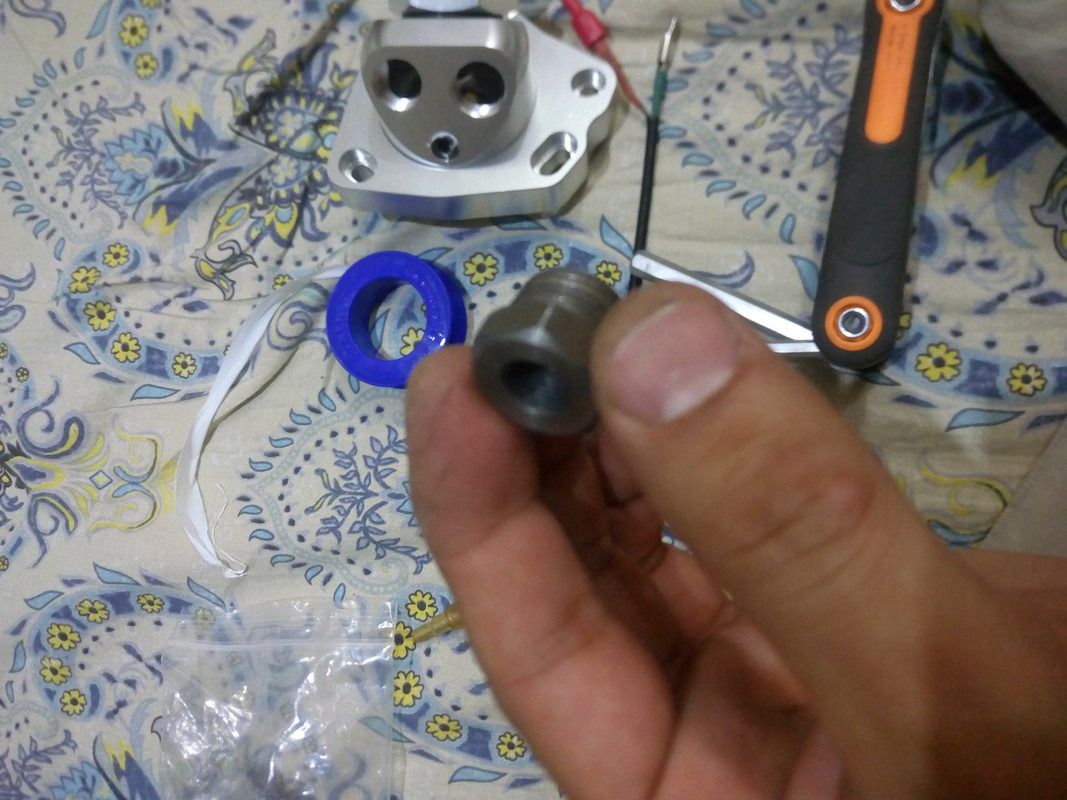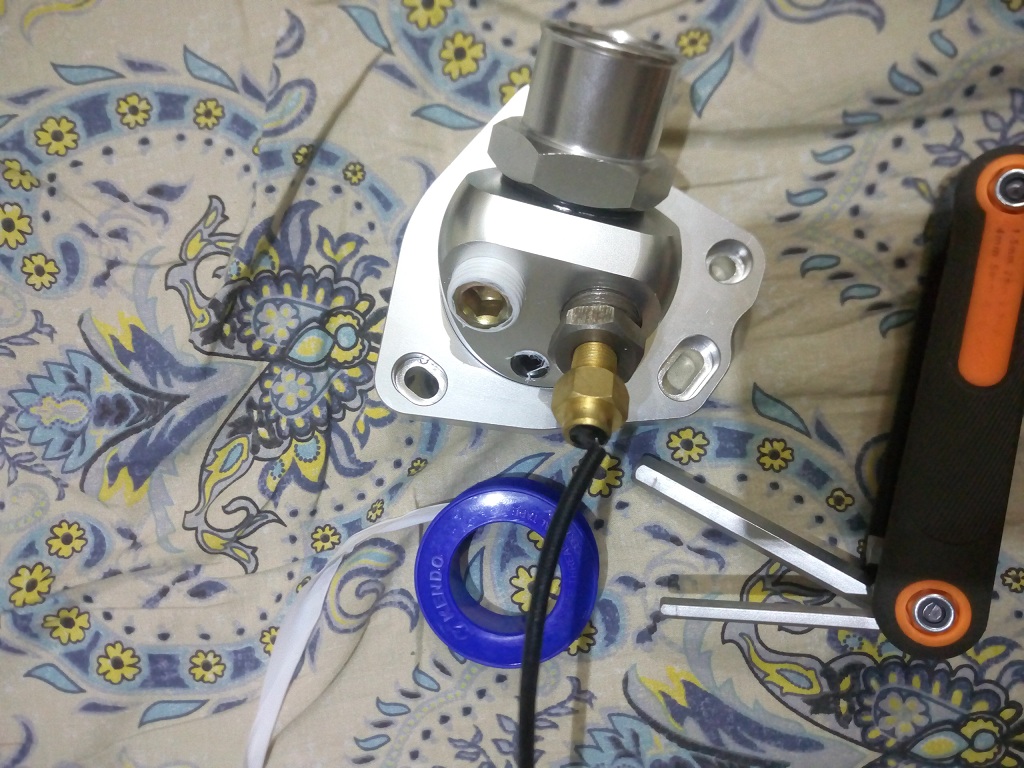 Finally its not hitting the thermostat valve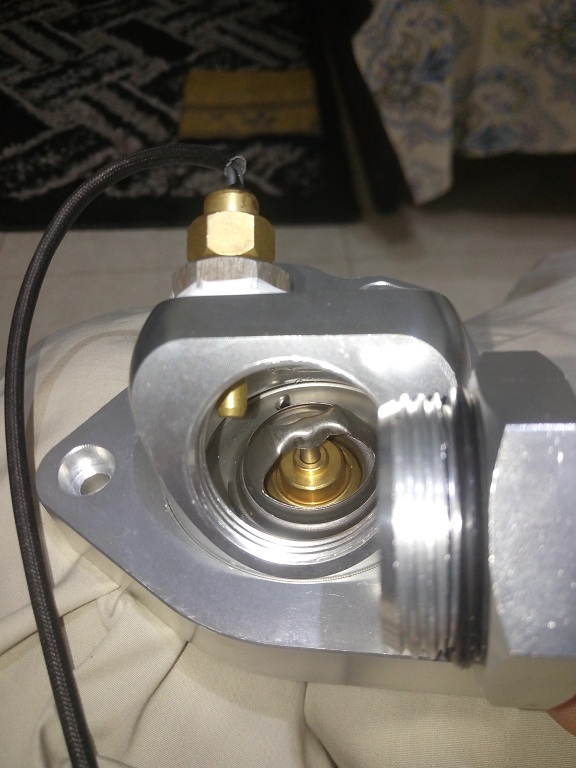 Final fittment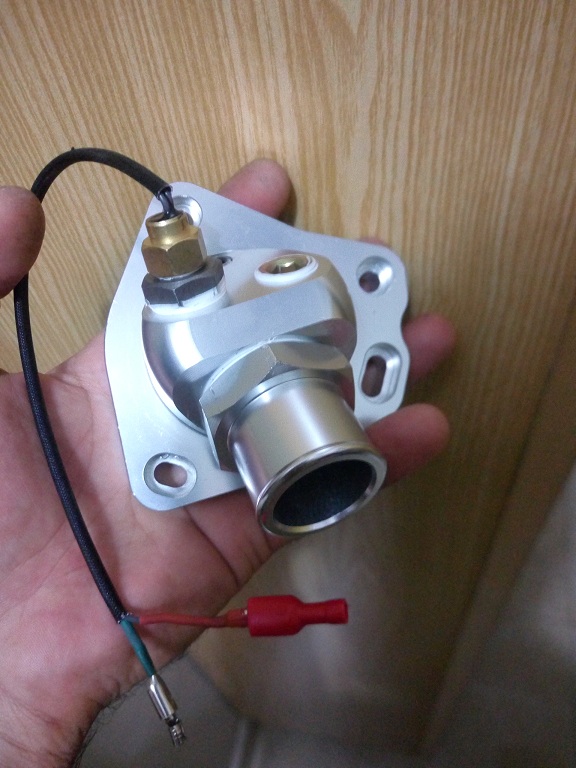 ---
''Impossible'' itself says: 'i' 'm' 'possible'.
So never give up hope..
Premium Member
Join Date: Jun 2014
Location: Somerset, OH
Posts: 5,321
Good write-up! Thanks for the documentation, as I'm sure there are more than a few people interested in a kswap sometime in the future.
---
2013 Honda CRZ EX PWP w/navi CVT and the 6-Speed |
Litz's 2013 PWP Build Thread
| HPD | Sprintex | Mugen | BLF | Seibon | Tanabe | Heko |
DIY: CVT with 6-Speed shift boot
the speed of sound...the speed of light...the speed of love...the speed of white!
Crank Sensor
---
This one is slightly tricky to get wire correctly.So many confused posts over the internet.
The rule of thumb is " follow the sensor not the wiring grip or the ecu"
Below is the the crank sensor of a k24. and also of CRZ and Honda Jazz,Honda City.Its very common again.
I took it out for demonstration purpose only.No need to pull out the sensor.Just you need is re-pin its wiring grip.
Numbers written on it are 15130172-3925-RAA but its part number for k24a2 is 37500-RAA-A01.
Notice the difference between the wire location in grip ? The blue wire is signal wire,BRn/Yel is Ground and Yel/blk is its power.Above is k24 and down is k20.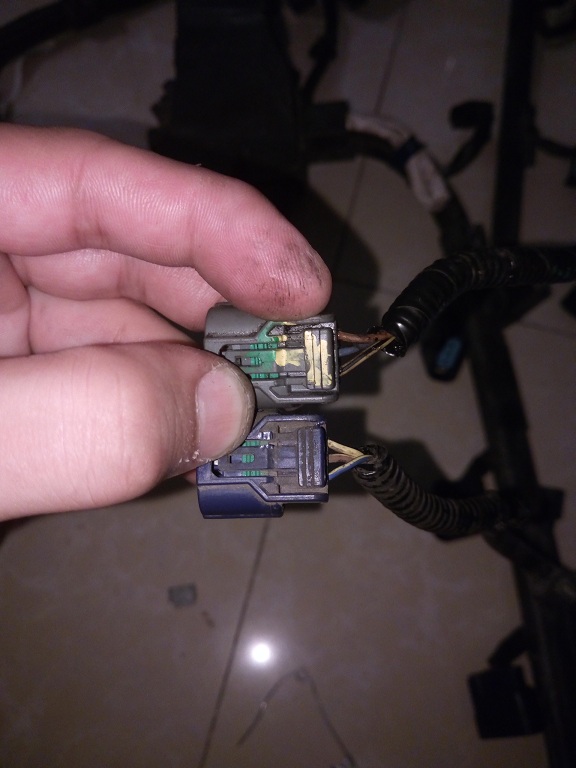 Notice slight difference in the grips also from above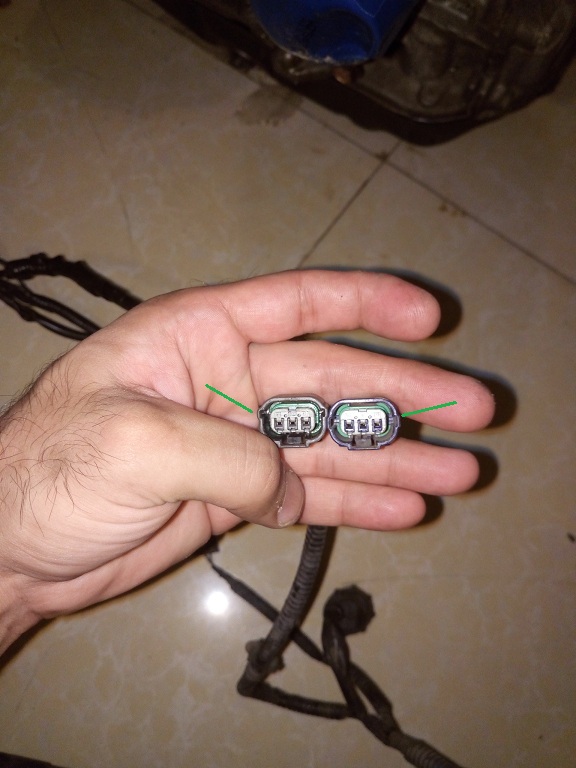 Now you will need to remove the white plastic plastic material inside the grip with a small screw driver or a dental pick etc etc and it will lokk like this.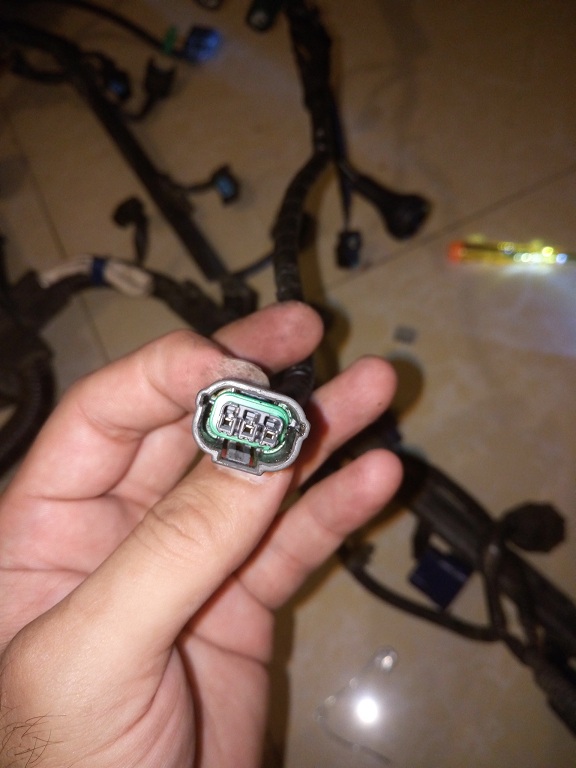 Now its easy to pul the wire from back and re put them according to k24 wiring diagram.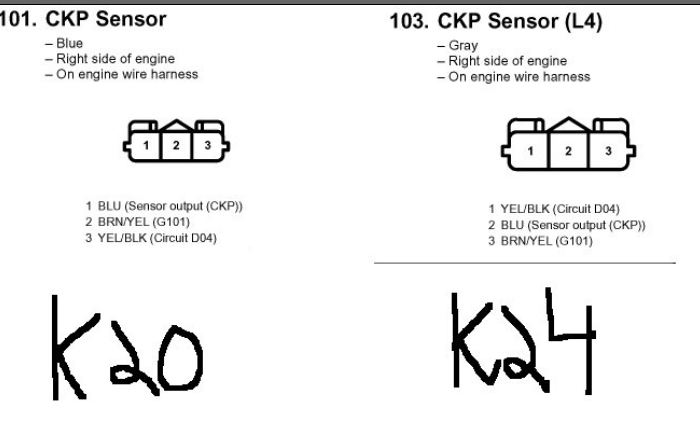 This is after the re-pinning civic si wiring grip which now looks like the k24 wiring grip which came with my engine.(i bought k24 with its complete wiring so that i might need some wiring grips from it).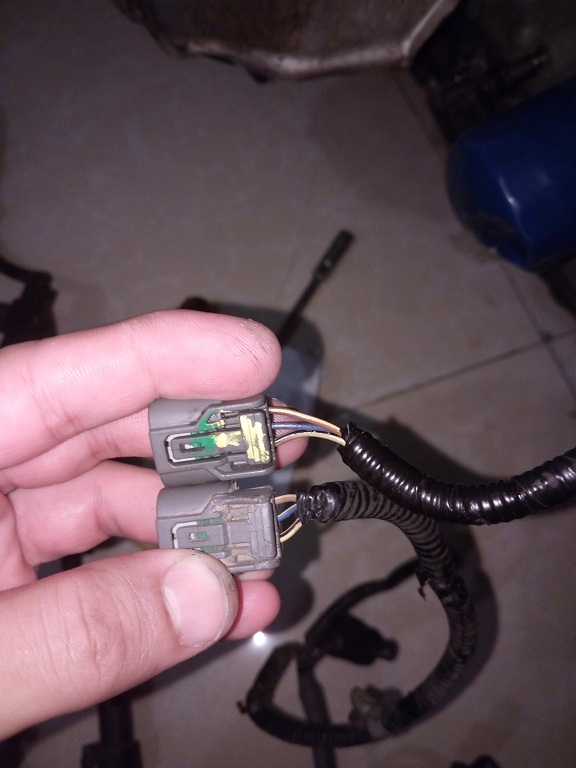 So to summerize all this,all three wire sensors sends its signal from a specific wire,light blue in our example(two wire sensors,only ground and power doest matter if you reverse the wires).So the ECu is looking for that signal from that wire.Its up to you to know which sensor is it and which is signal wire.So the wiring grips will follow the output of the
k24 sensor
not the k20.Although we are using k20 wiring and a k20 ECU.
---
''Impossible'' itself says: 'i' 'm' 'possible'.
So never give up hope..
VTEC Oil pressure switch (Optional)
---
So far we have removed exhasut manifold to adress the oil pressure sending unit and intake manifold to address the knock sensor,water body jacket and starter wiring(i will tell next).
The JDM engines dont use the vtec oil pressure switch but Civic si uses and it has its wiring grip and ECU wont active VTEC if this sensor is not installed.( but if yoy are using Hondata flashpro you can disable it ).Its a very common sensor again found of honda Fit GD or Honda City 2003-08.and many more.(at end i will make list of all sensors which needed,ebay or junkyard).
On backside of engine,is Vtec solenoids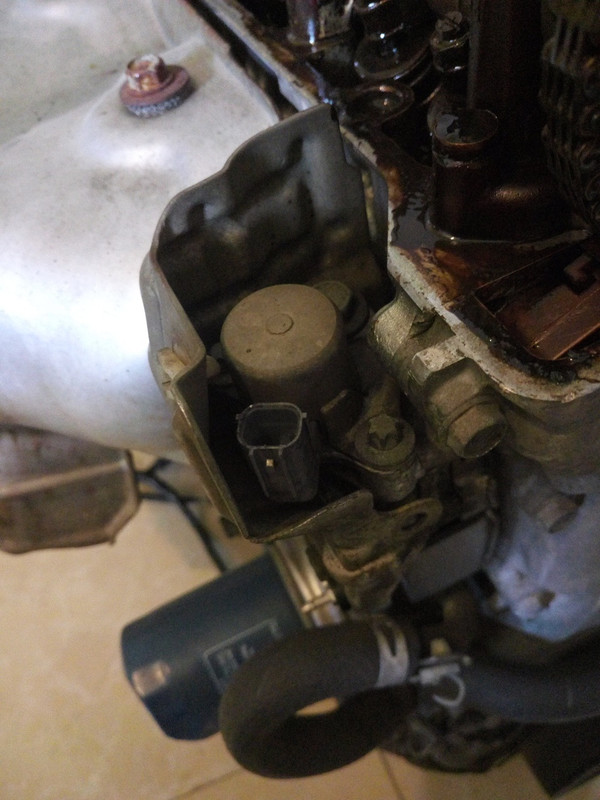 You will need to remove this bolt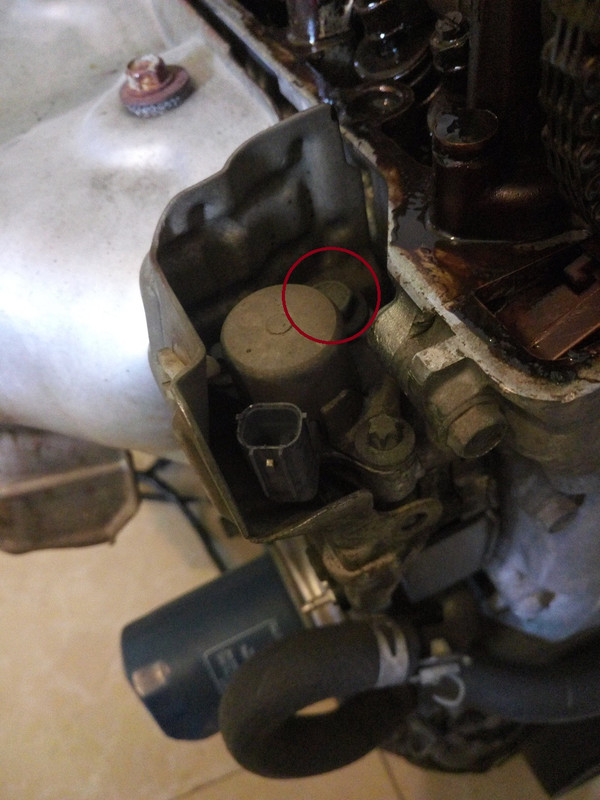 and install the sensor in its location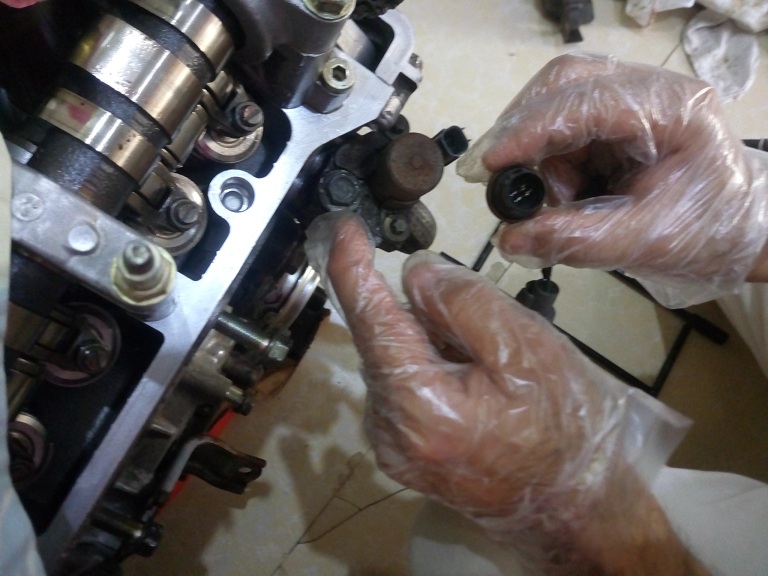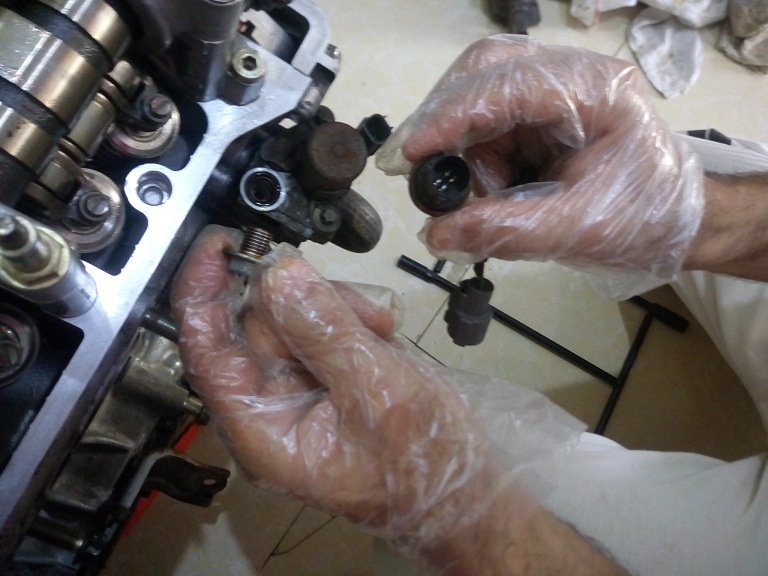 Final fitment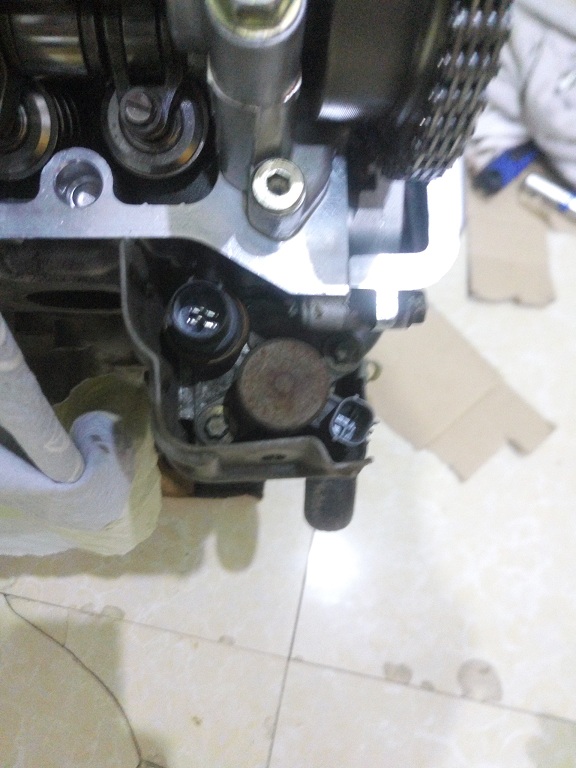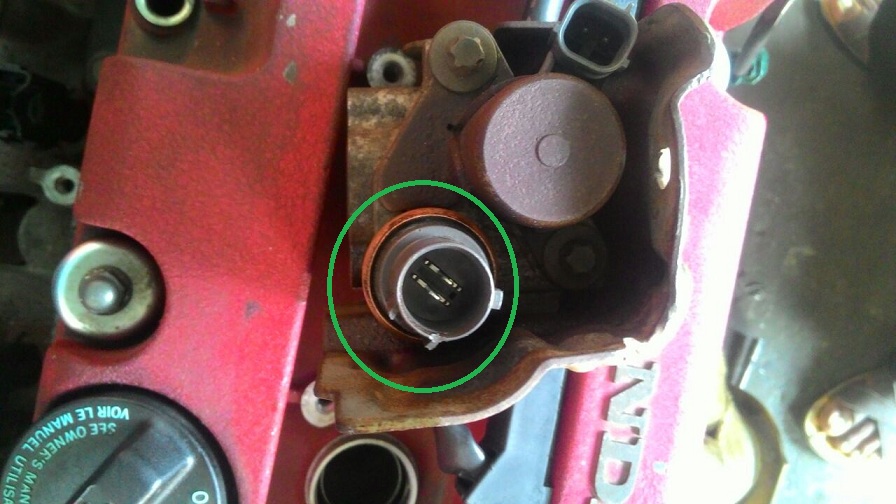 So it all depends uopn the engine you got.may be it will have this sensor already.but most JDm engines dont have this like mine did't.So i had to install it but fiound out later i didt need it.
If you plan to use stock Civic si ECU than you need it otherwise skip this step.
I dont know whether Ktuner has option to disable it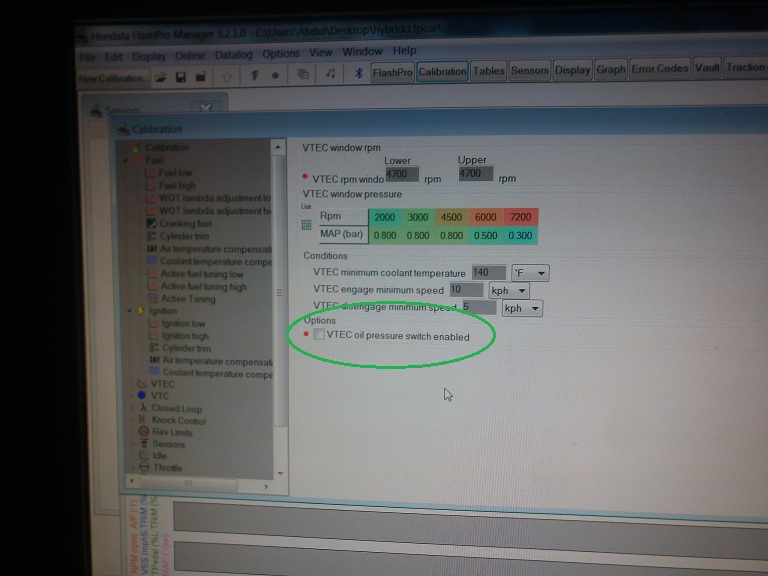 In Short :
The JDM ECU does't look for this sensor neither do JDM engines have this. US/EU engines has it and the ECu looks for it. But you can disable it with software and every thing & VTEC works just fine if you dont install it in a US/EU engine swap
---
''Impossible'' itself says: 'i' 'm' 'possible'.
So never give up hope..
Intake temperature sensor (IAT)
---
Here is you need to choose a path.Either you will use MAAF based ECu maps in Hopndata Flashpro or ktuner or you will use MAP based(speed density). If you want smoothness and drivebilty you should use hybrid map as does the factory honda ECU uses. If you plan on building the engine or boosting it in future than MAP based is good for you. I use MAp based map in bith my k-swapped cars and they are good.
For hybrid configuration you will have to buy Civic si MAAF sensor.It will have both MAAF and IAT sensor in it.No need to do any wiring for it. But if you want to use MAP bases maps,than you dont need that expensive MAAF (110$) sensor but a tiny IA sensor most common in older Hondas.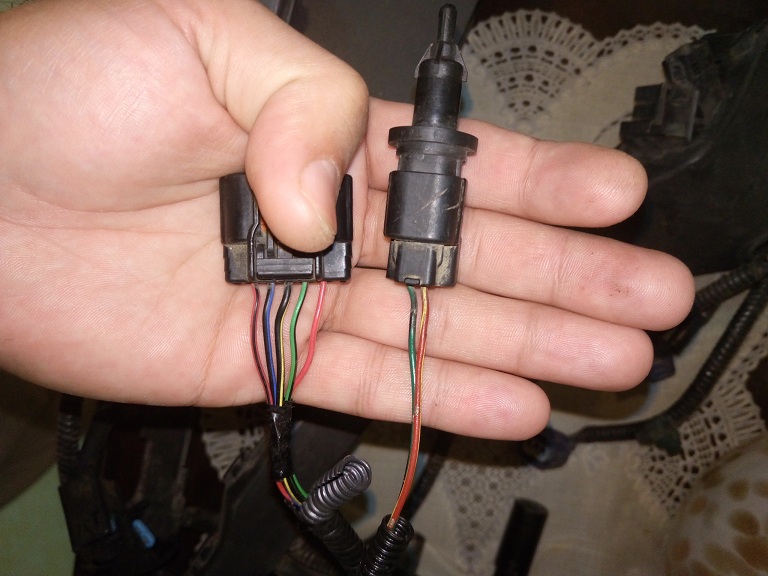 You just need to wire the IAT sensor two wires according to this diagram of Civic si
Just wire IAt wire to most right side wires of MAAF sensor grip of your Si wiring.i.e Grn/Blk and Red/Yel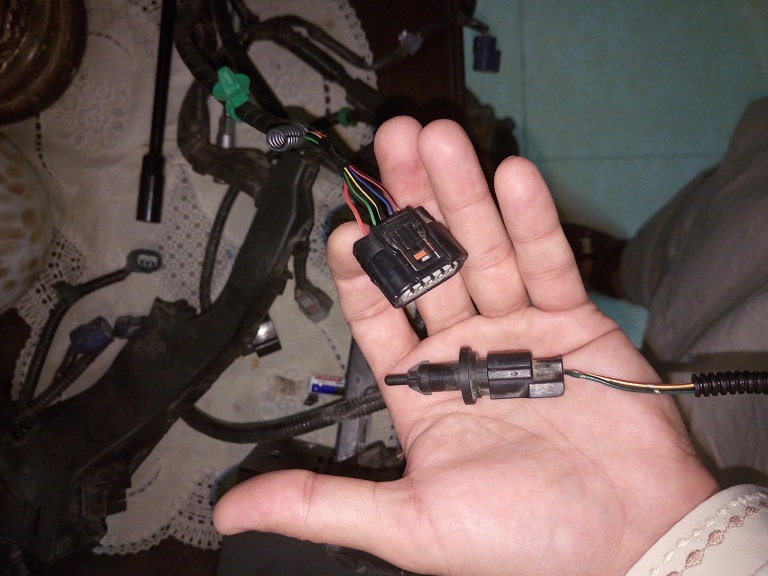 Remember to buy the IAT sensor with its grip also. Honda Part No.: 37880-PLC-004.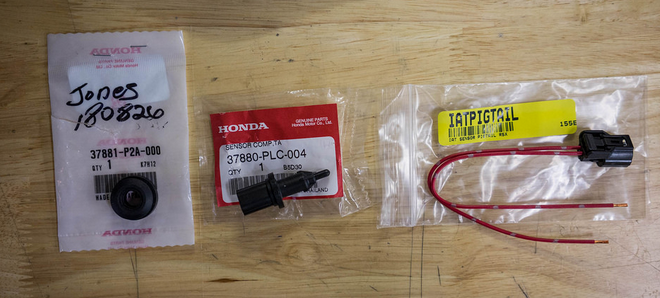 And for those who want to use MAAF sensor,here is part number , 109$
Honda Part No.: 37980-RTA-003
Thanks Olliver for above diagram.
With this you have completed the major sensors replacement/Grip re-pin for a k24 engine or any k-series engine to accept Civic Si Wiring plug & play.
I hope this all doest seem difficults.Actually it is Fun.
Next i will cover most other hardware related details like axles,half shafts,break booster,CVT to manual conversion,headers,Ac compressor and O2 sensors and many more
---
''Impossible'' itself says: 'i' 'm' 'possible'.
So never give up hope..
Senior Member
Join Date: Mar 2017
Location: Mississauga, GTA, Ontario
Posts: 354
Now this is a good read. I'll be lurking around in here, guaranteed!
---
Your nurse in training
are you in Ontario or Québec?
Intake Manifold touching Alternator Bolt
---
While you are at front of engine,a very important point to note. As most of us know k-series engines came with verious intake manifolds,some have more low eng torque,some have higher top end HP etc etc.So if you choose to use same manifold which came with your engine than these next steps are not needed.
But if you are changing intakle manifold like i did, inspect carefully that after installing intake manifold the Alternator screw is not hitting with it or else you will short circuit wiring or short your alternator.
If thats the case just grind the screw end and it will solve the problem.But its easyly done when engine is out of car.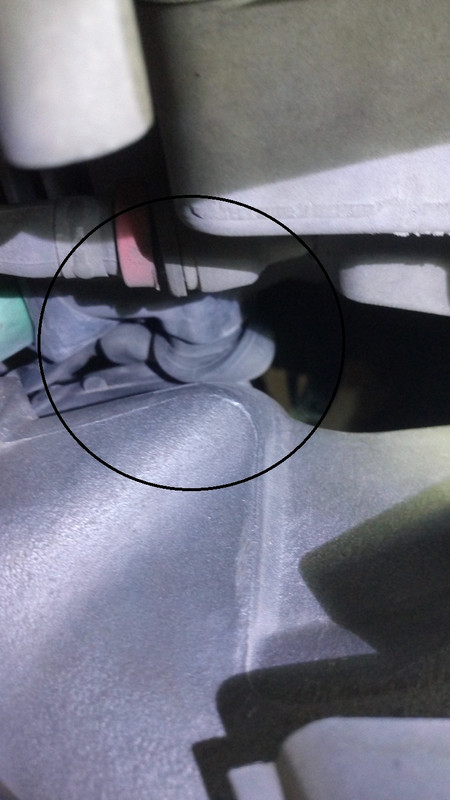 The rubber cover over the screw is protecting but with time the screw will tear it and touch the manifold and short circuit.Happened to me and i was saved by blown fuse insead of fire in car.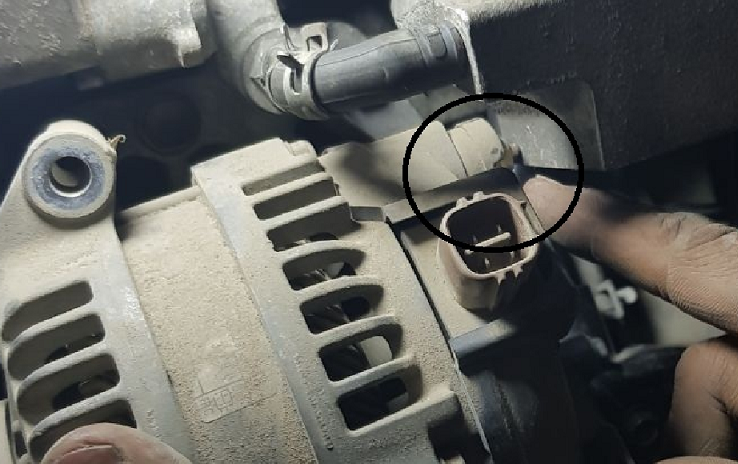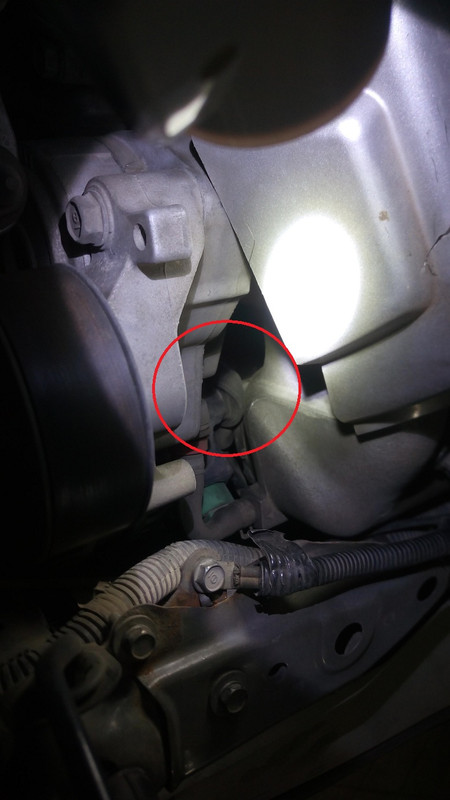 Blown fuse of alternator/generator.This fuse cannot be replaced.You will have to replace the whole unit. I got it soldered but that not good idea and risky.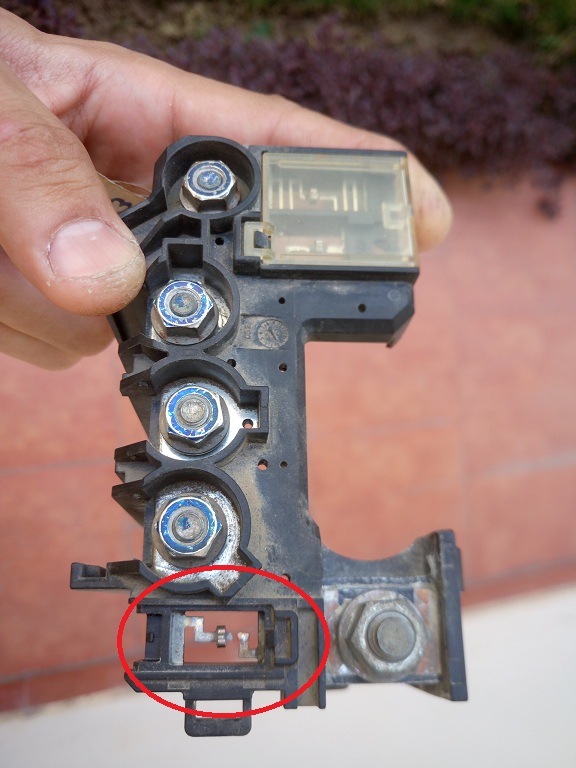 To expose the screw remove the plastic cover from alternator by opening three bolts holding it using 8 mm key.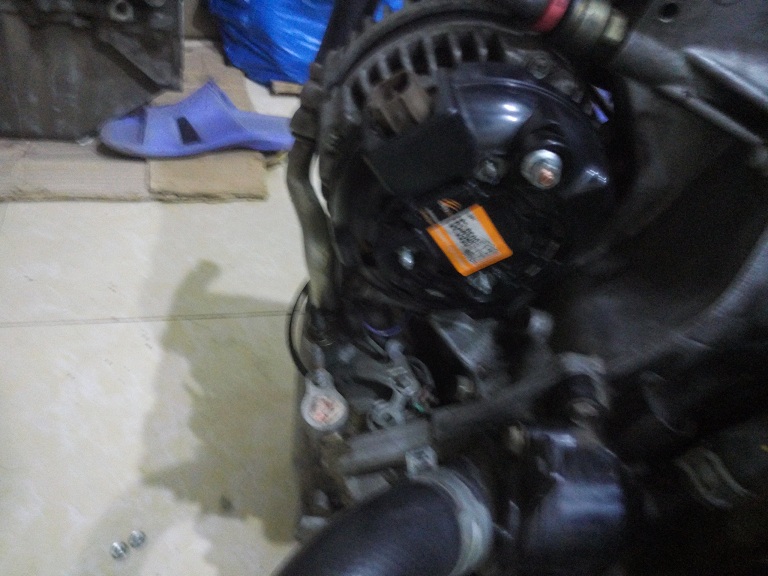 Screw exposed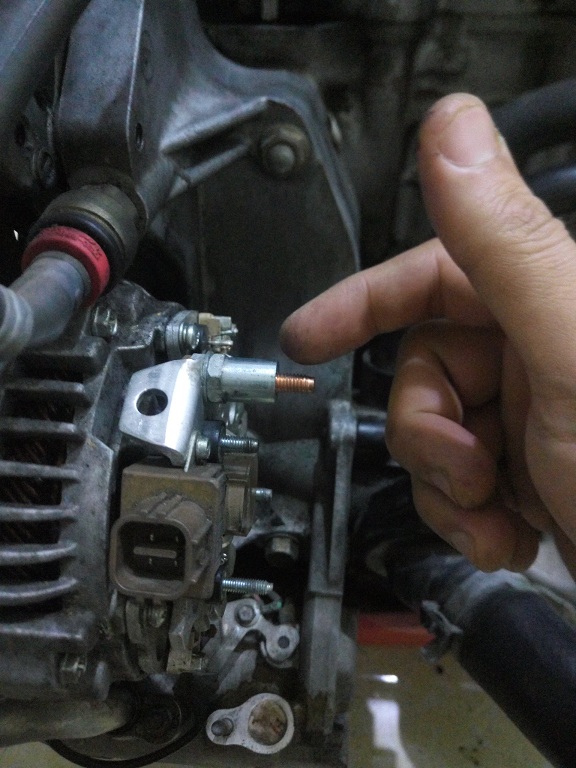 Removal of covering bolt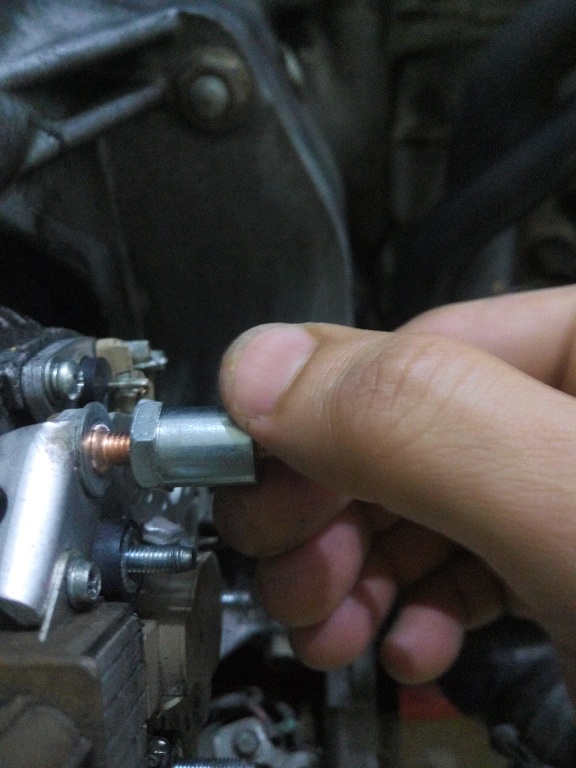 Marked for grinding (black ink at end)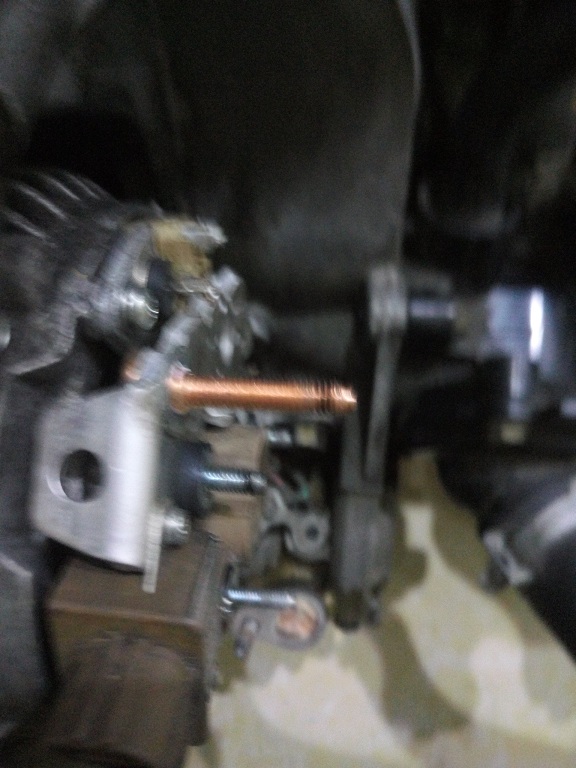 After grinding the tip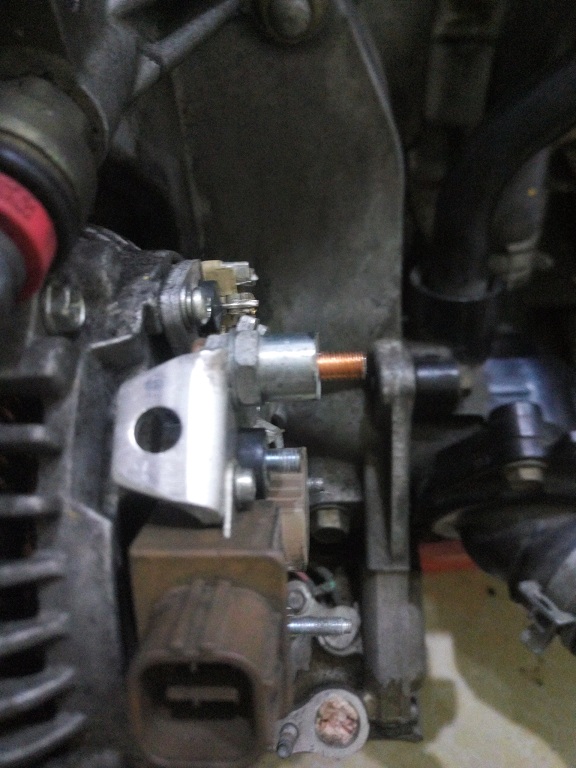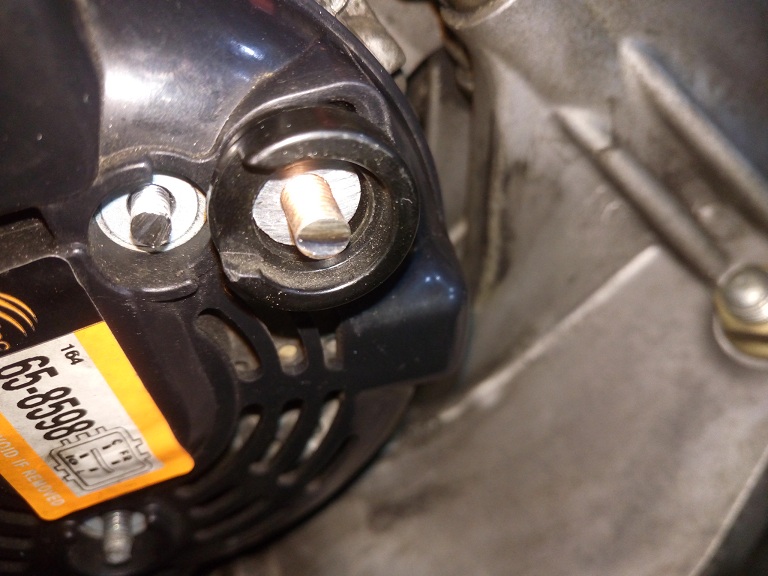 yaay it was easy but wait.Did you noticce the plastic cover is in such a way that now the alternator wire will touch other screw of left.We want it to face downward to be safer. So we also need to grind lower portion of plastic so that our alternator wire will exit down not on left side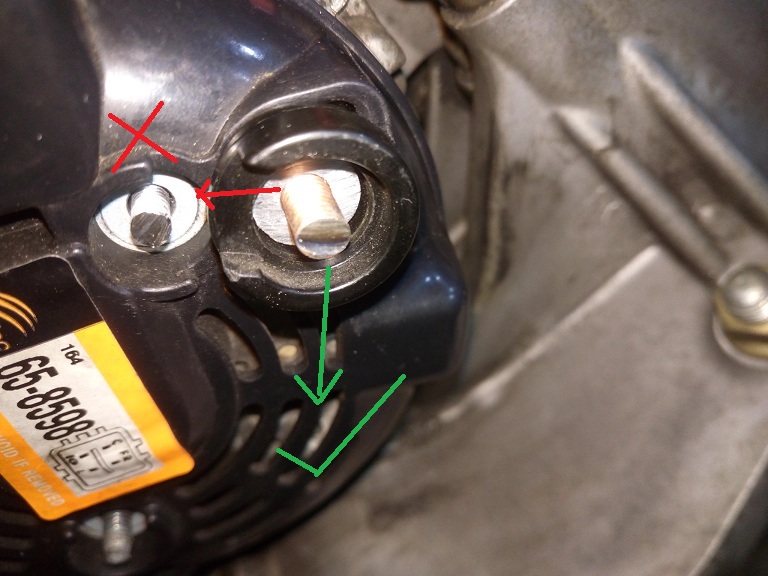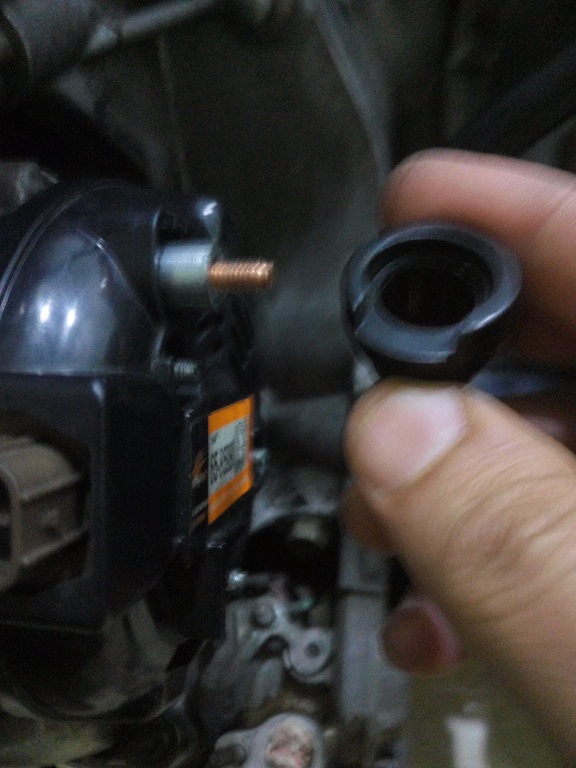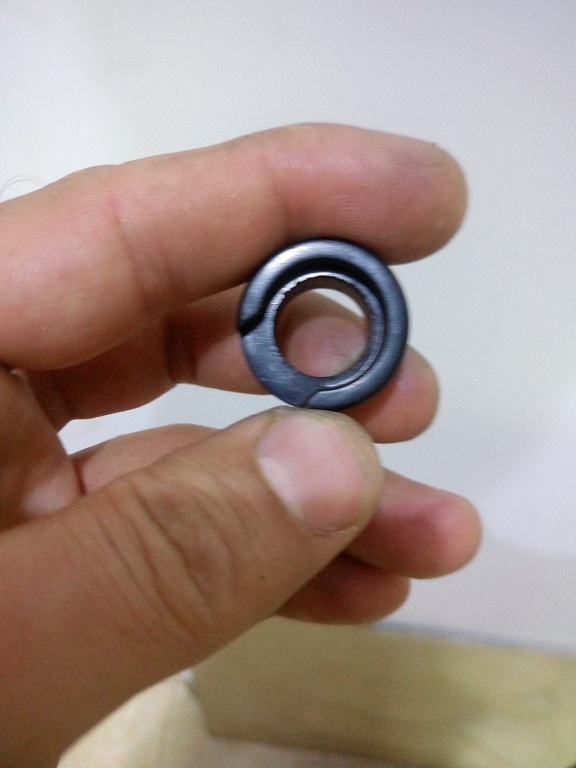 After grinding plastic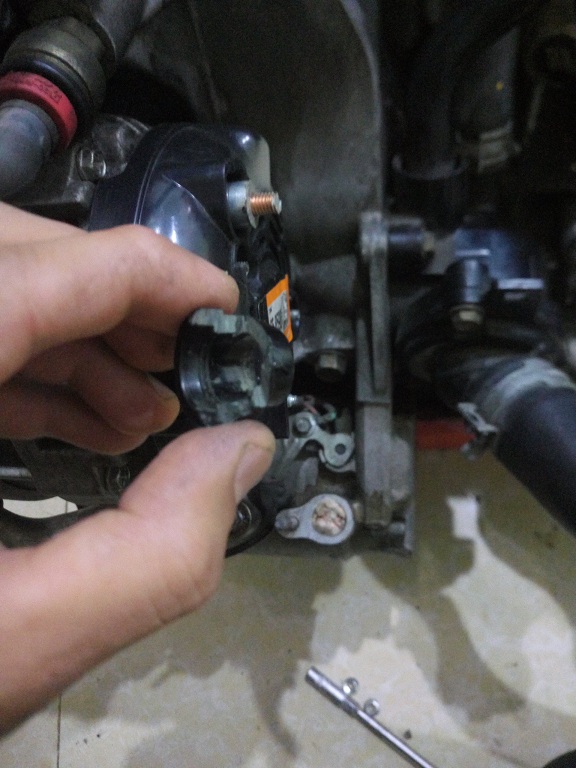 Aaaand finally its now safe
I think i should also mention some basic tools you will need for preparing engine and wiring.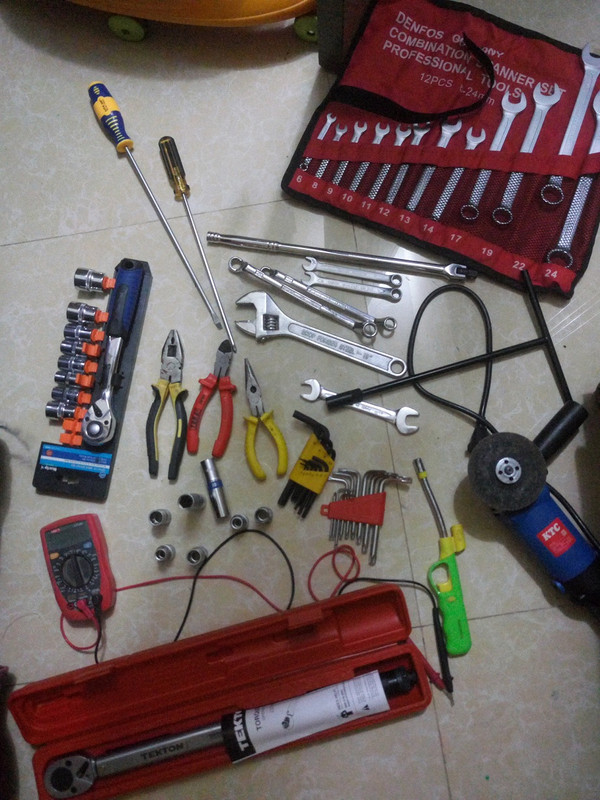 i recommend buying whole sets of keys instead buying one or two etc.
torque wrench is optional,if you want to do head work.grinder is also optional but will be handy.
You will note some keys are long,those are to open spark plugs as their sockets are deeep.i think 16mm is needed for spark plugs.
a grill machine also will be very handy. Alen key set and hex key set also if you want to modify VTC gear like i did (details later). i forgot the pic of hammer.and feller guage to do valve adjustments.
For wiring a crimping tool and some heat shrink tubes will be handy,plus paper cutter and a lighter.
So these are all basic and simple tools.
---
''Impossible'' itself says: 'i' 'm' 'possible'.
So never give up hope..
Member
Join Date: Jun 2018
Posts: 112
Thanks Abdul for posting this. I'm in the midst of k swap or bigger L15a turbo. I wanted to use RSX Type S because it's cheaper than Type R but most workshops here refuse to take this job.

I did thought of swapping it myself, it's such a fortunate to have you here posting the DIY step by step..
---
2012 ZF1 MT6 Turbo
Super Duper Member
Join Date: Jul 2014
Location: glorious Galt CA
Posts: 3,951
Great thread. Thanks for it, and the photos.