Discussion Starter
•
#1
•
My Sister-In-Law wants to buy my OEM CR-Z wheels and tires for her '07 Civic LX. I told her $500, which is a steal since the tires have about 200 miles on them.
I'm trying to decide what to spend this new-found loot on. Takeda Intake and Progress RSB? Amplifier and Sound Processor to complete my audio system? I keep coming back to the one MAJOR Mod I want REALLY BADLY... a SUNROOF to enjoy this beautiful Florida weather we have most of the year! :wub:
I love the way this looks, both inside and outside the car, open and closed!
I went to a local sunroof installer here in Pensacola, Florida that's been around for decades. He quoted me a "military price" of $860 installed--which is a good deal, IMO. I was curious as to how "entailed" the installation would be, so he e-mailed me the instructions directly from the distributor "The Sunroof Doctor".
I've been thinking about this for 6 months and curiosity got the best of me, so I did a Google search and found the distributor's website.
The Sunroof Doctor - Your source for replacement sunroof & t-top parts!
Apparently, one can purchase a Webasto sunroof directly for $409 !!!!! I am looking at the 321M (Medium) Model; which seems to be the 300 Medium "Series" that a few forum members have had installed in their CR-Zs. It auto-closes when you remove the key, has a rolling sunshade, tinted glass, programmable buttons, etc.
Hollandia 320 and 321 Controls Video - YouTube
I spent 20 years in the U.S. Air Force in a career field known as Aircraft Structural Maintenance. I now teach Technical Training for this career field for the Air Force as a Civil Service Instructor (now that I'm retired). Basically, we do metal fabrication, riveting, battle damage repairs, carbon fiber / kevlar / boron composites and fiberglass repairs, metal-bonded honeycomb repairs, major aircraft structural mods, etc. In essence, I spent the last 20+ years cutting holes in $50 Million - $200 Million aircraft...so there's not much that scares me with regards to "cutting holes in expensive things".
For $860, I could have a Webasto Sunroof, Takeda Intake AND Progress rear sway bar! :thumbsup:
The sunroof kit comes with a template and detailed instructions on where and how to position the sunroof. What size fits, which glued-in OEM roof stiffener has to be removed, and exactly where to place the cutting template are all in the instructions.
Here's the Instructions: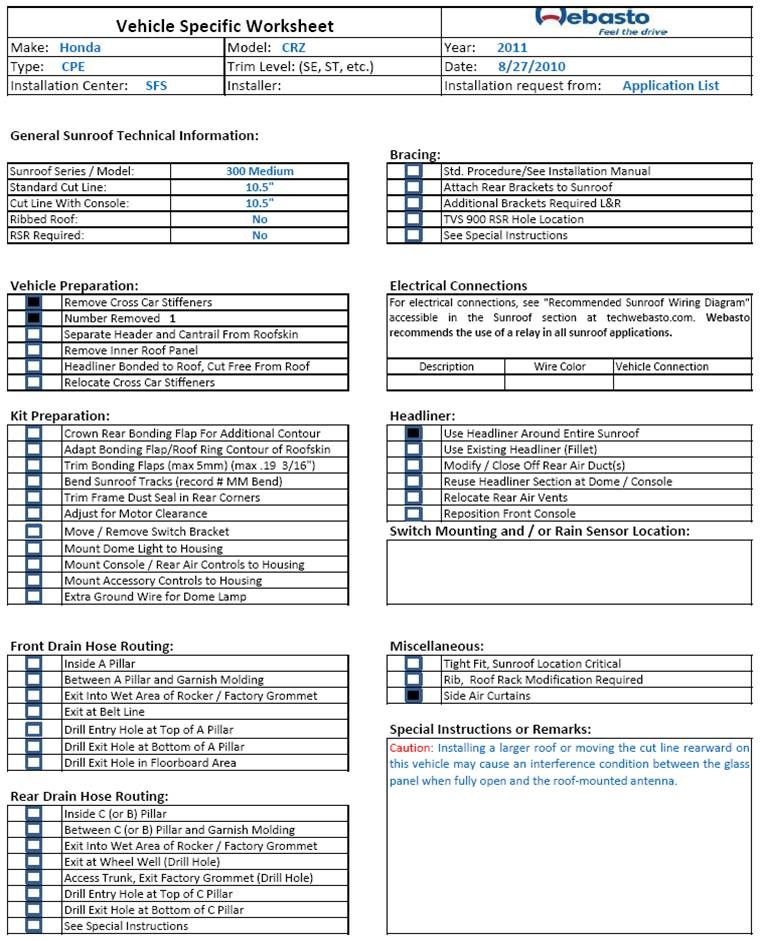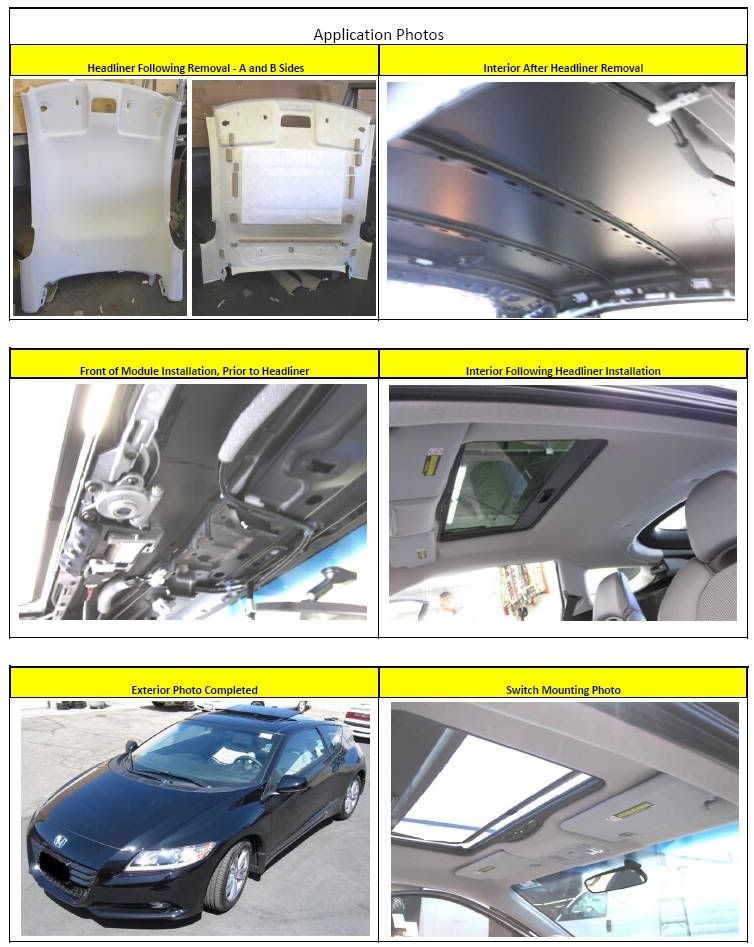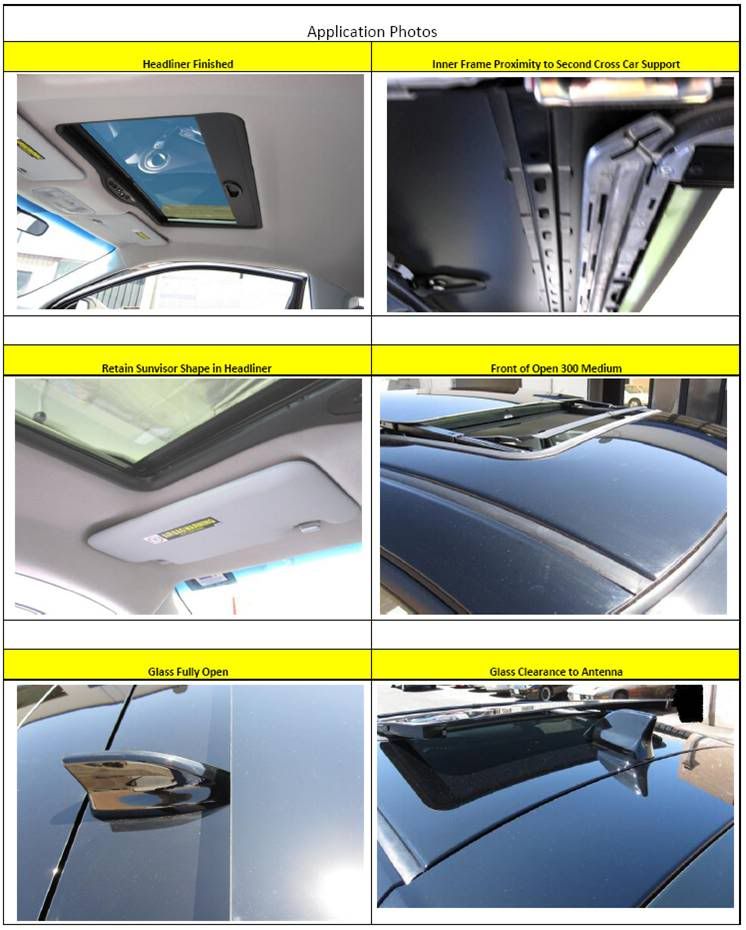 I'm thinking:
- Connect the sunroof to a 12v electrical source and test-run it right out of the box
- Cover the roof panel in tape.
- Cover the bottom of my jig saw with tape.
- Install a 24-tooth metal cutting blade in the jig saw.
- Position the template on the roof. Measure and re-measure like 5 times and mark.
- Drill a "starter hole" in one corner and cut-out the opening with the jig saw.
- File, de-burr and sand the edges of the cutout smooth.
- Prime and paint the freshly cut edge.
- Install the sunroof and wire it up.
- Perform a test run (installed)
- Back car out of garage and leak-check sunroof with a garden hose
- Cut the hole in the headliner panel
- Dyna Mat the inside of the roof panel
- Re-install the headliner panel
- Install the trim bezel to complete the job
The only wiring that has to be done is running the wiring harness down the driver's side A-pillar and into the fuse box (plus installing a relay for the sunroof).
Call me crazy, but I really don't see this as any more entailed than most engine mods, etc. that experienced engine tuners perform. If you have the balls, experience and expertise, I say go for it and utilize your skills! I feel 100% confident that I can install this sunroof just as well or better than a local yocal redneck here, and right now I'm at about 99.9% certain I want to install it myself.
I'm slightly O.C.D. and pretty anal about my stuff. I don't like paying people to work on / modify my cars, motorcycles or houses - I like to do it myself. My son and I recently installed our own Tein springs on our cars in our garage; which is something I thought I'd never do. All we needed was hand tools and a Harbor Freight spring compressor.
I'm just wondering; HAS ANYONE ELSE EVER INSTALLED A SUNROOF THEMSELVES? If so, please advise me of any pitfalls I may be overlooking.
olice: And no, I don't need 20 people telling me my sunroof is going to leak. Have a little faith. You've seen my very best work over head in every U.S. War since 1989.
Of course, I would video / photo document this as a major DIY.