Discussion Starter
·
#1
·
Hello all. Did this Install a while ago and did a write up showing the before and after pictures. You can check it out here
http://www.crzforum.com/forum/aftermarket-crowd/1879-led-switchback-park-lights.html
Finally had a chance to do a DIY article on how to install these. For a list of bulbs you will need you can check the list I put together here
http://www.crzforum.com/forum/aftermarket-crowd/1879-led-switchback-park-lights.html#post13466
What you will need: LED Bulbs, 6 ohm Load resistor per bulb (or if you plan on replacing your rear bulbs with LED's you can get a 3 ohm load resistor for each side), Electrical tape, solder or solder-less crimp terminals, extra wire, screws, and a metal bracket to mount the load resistors to.
Tools needed: Cordless drill, drill bits, right angle drill adapter or stubby Philips, clip remover tool or a flat head screw driver, 10 mm socket and ratchet, soldering iron or crimpers, wire cutters and strippers, multimeter or test probe.
The difficulty of this project is medium to high. I recommend a basic knowledge of electrical and the proper tools to make this job quick and easy. Should take about 2 hours.
***I always suggest professional installation. Myself and or this website cannot be held responsible if you damage your vehicle or yourself***
Read this thoroughly before you attempt, or decide not to.
First: Bumper removal (This optional but makes the job much easier to do and gives you much better mounting locations for the load resistors.)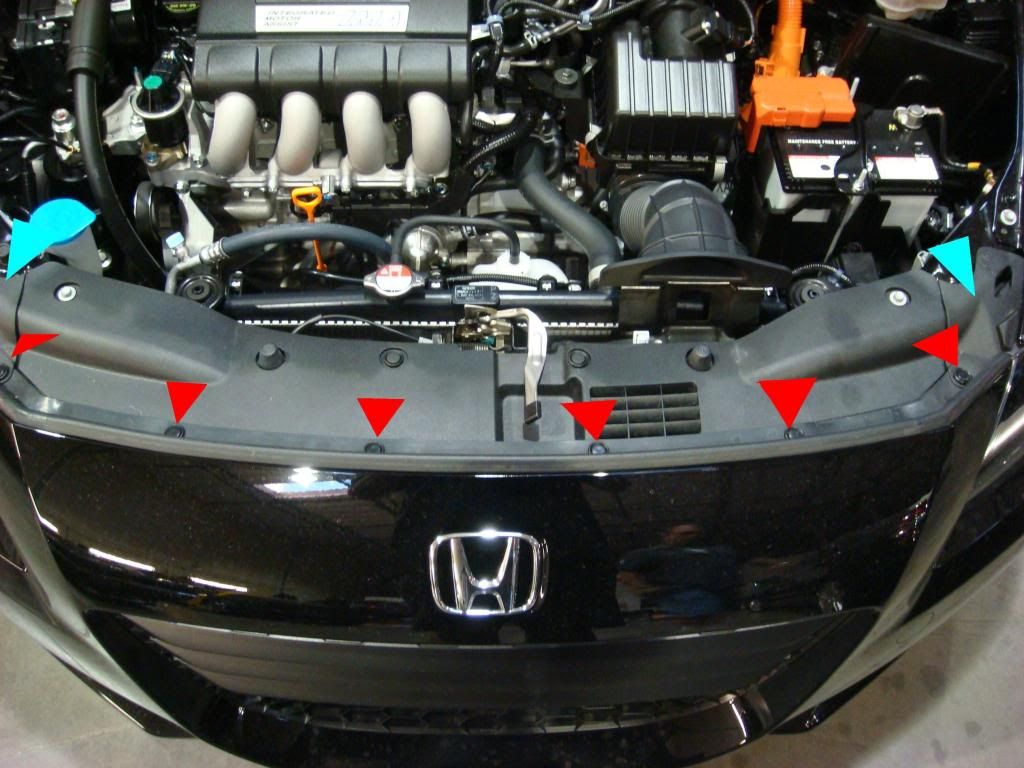 Remove all clips (red arrows) by prying up the center pin first then pull the entire clip out. Remove two plastic caps (blue arrows). Remove the rubber strip the clips were holding down and then there is one more clip to remove under it.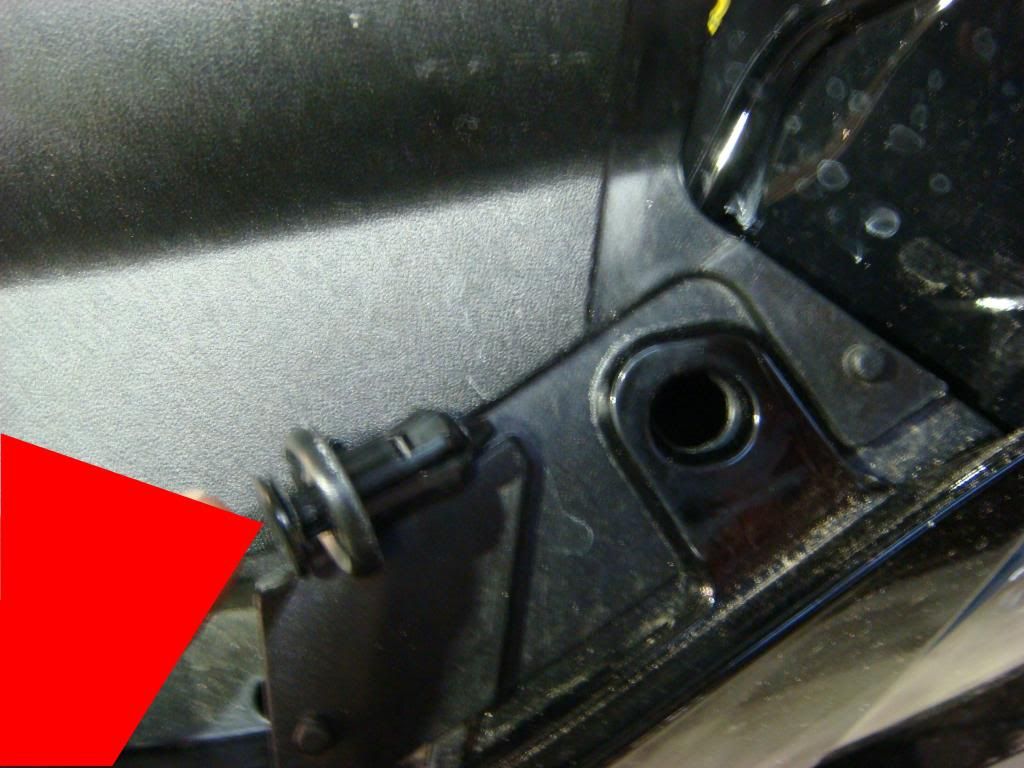 Picture of the clip removed.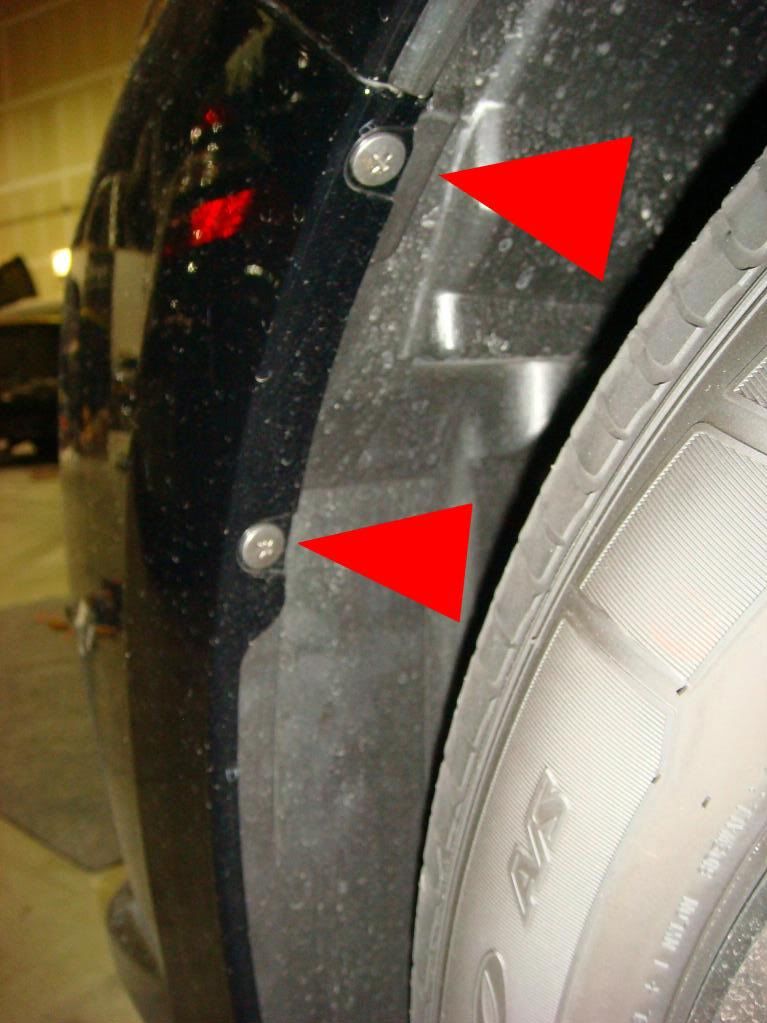 Driver side wheel well, remove two screws. Repeat on other side.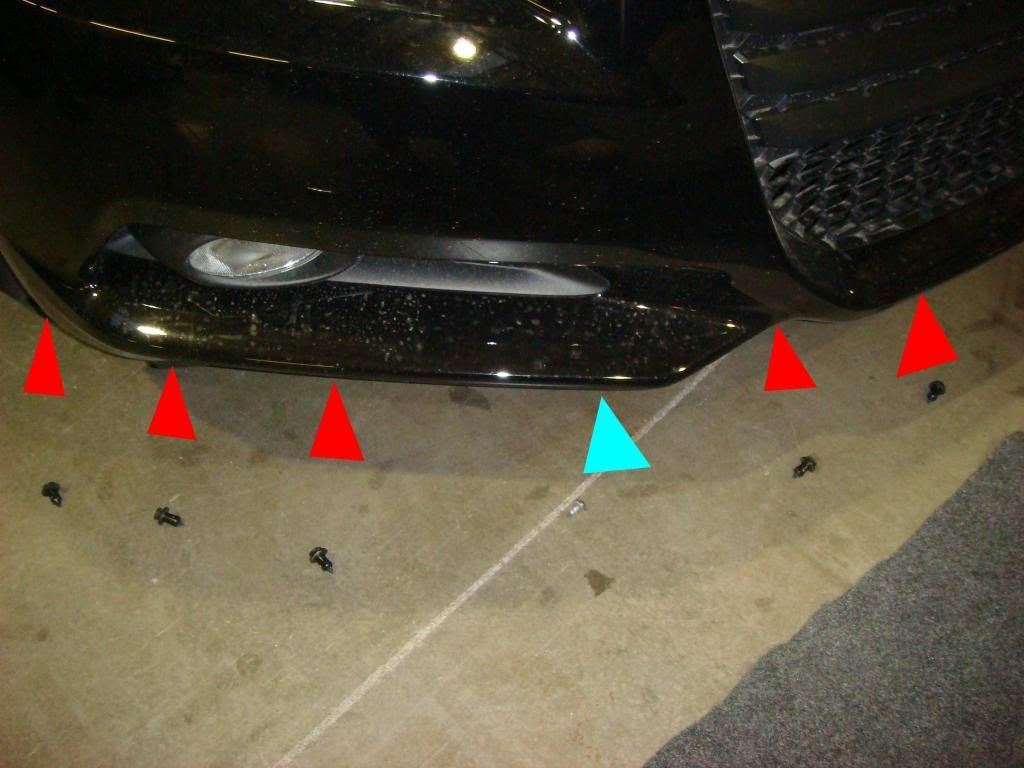 Passenger side under car. Remove 5 clips and 1 screw on each side of the car.
Pulling the bumper off the car, this is much easier if you have some help. Also have a place cleared out to sit the bumper so it will be out of your way. The bumper clips into a channel under the head light, start at the wheel well (blue arrow) and gently pull out till all clips fully release. Unplug fog light and your done.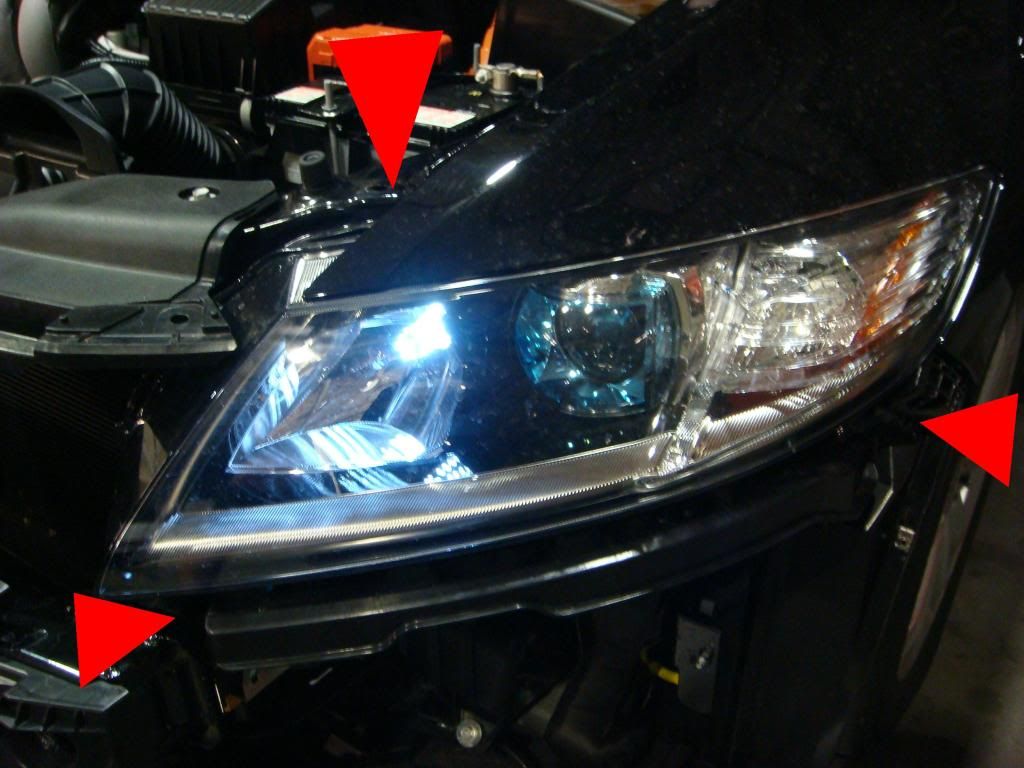 Remove 3 10mm bolts holding the headlight in. Remove and unplug all wiring and Turn signal bulb socket. Set aside.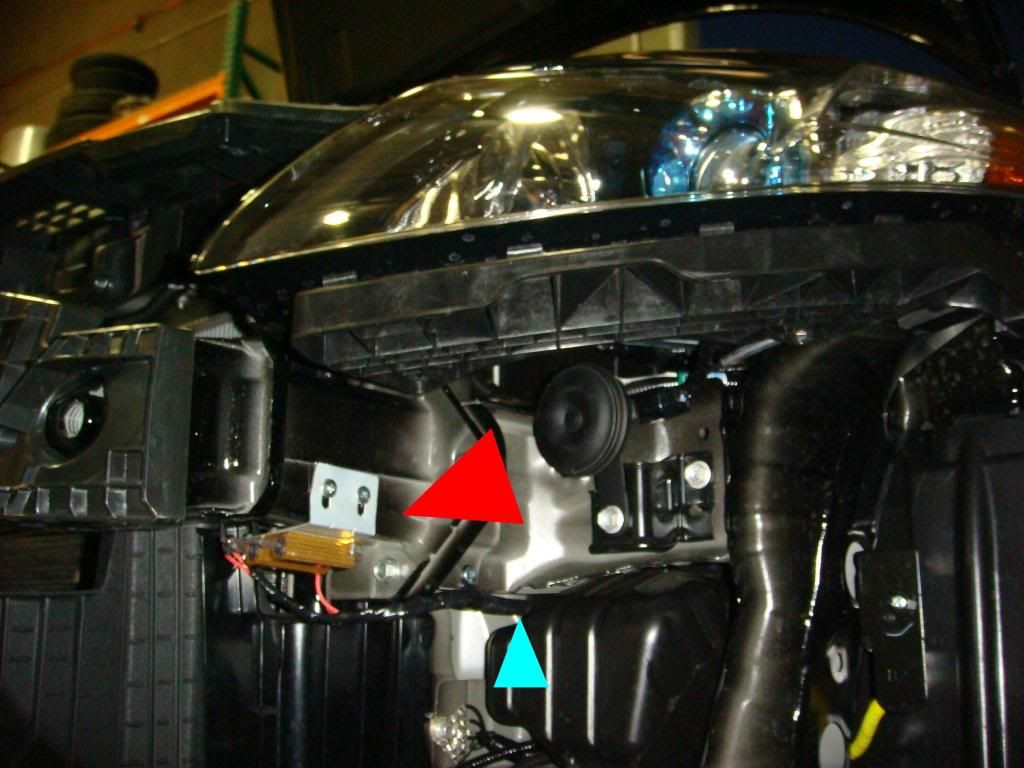 Prep the load resistor by extending the wires about 2 ft. mount them to a metal bracket(I used a piece of aluminum and zinc self tapping screws so they don't rust.) and then mount them to the car. I mounted them under the bumper impact brace. this spot is good because load resistors get hot and this area is away from anything that can melt, second they get air from the front intake area to keep them cool and third it is hidden. I used one 3 ohm load resistor for the left front and rear turn signal and one 3 ohm for right front and rear. (mounted one on each side of the car, you see 2 in this picture because the other is for my DRL, check my DYI for the DRL install.) If you are only replacing the fronts install one 6 ohm resistor on each side. After mounting route and secure the wires (blue arrow) up towards the turn signal plug.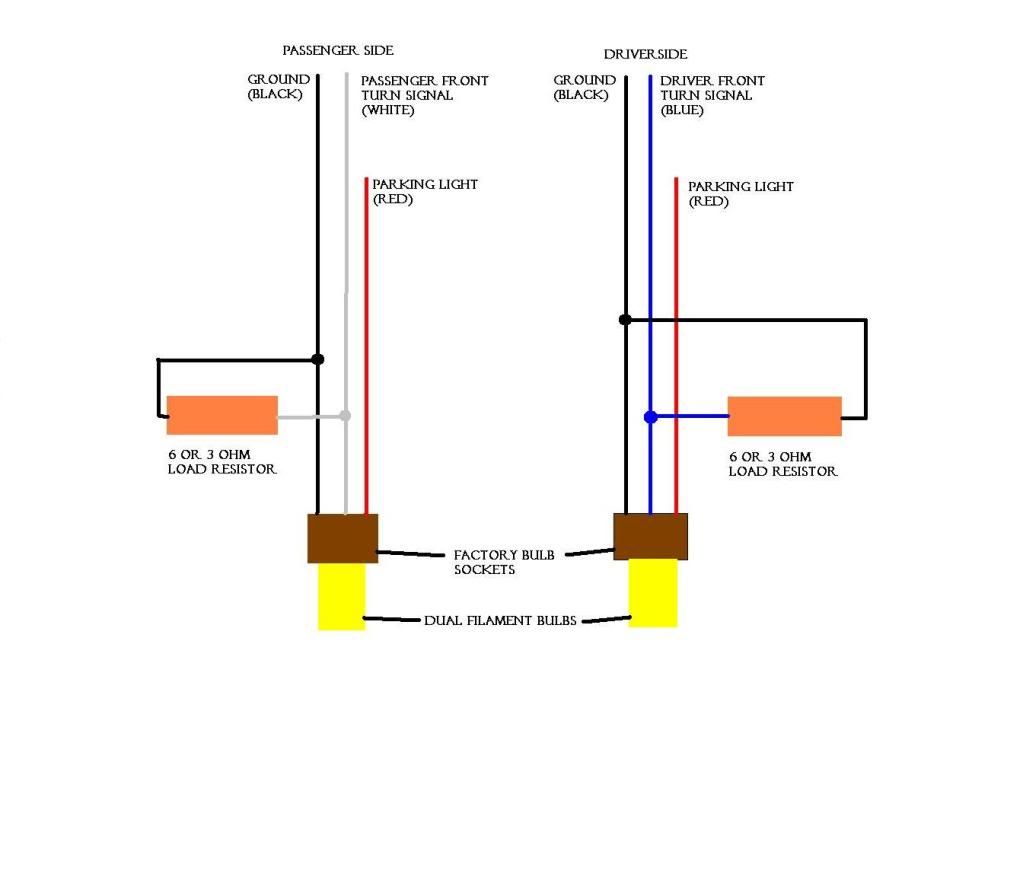 Here is a wiring diagram, always double check wires with a computer safe test probe or multi-meter. Load resistors are just like a light bulb but they produce heat instead of light. They have no polarity so there is no positive or negative. Just hook one side to the turn signal bulbs ground and the other to it positive.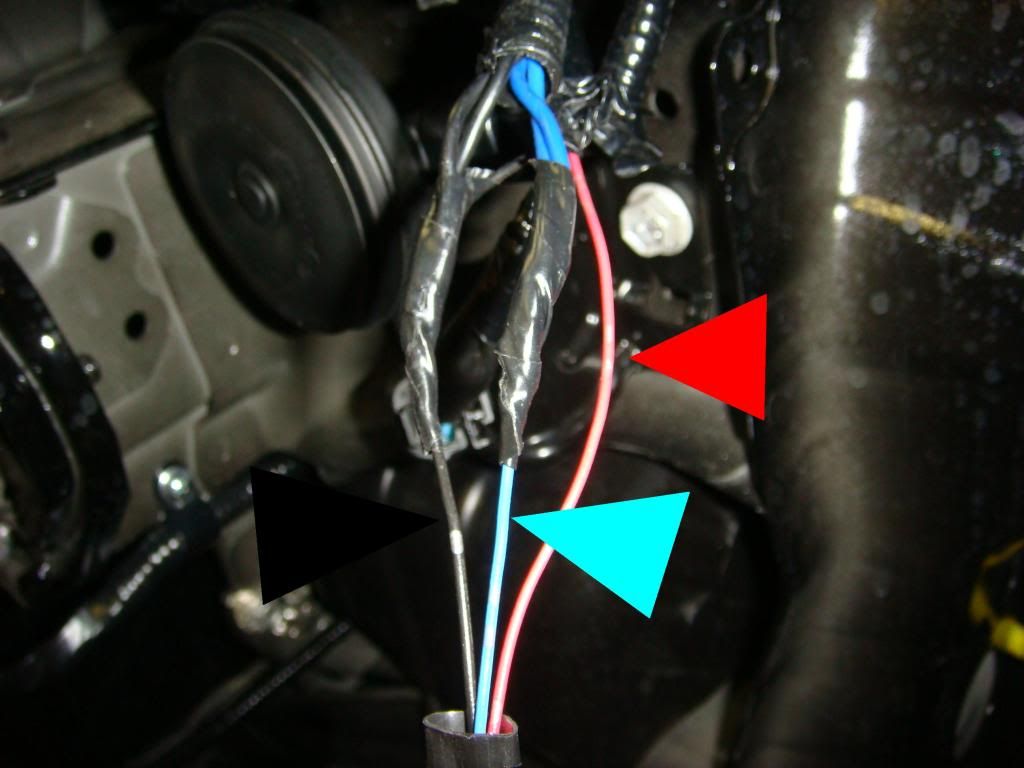 Splice the load resistor wires into the factory wiring, i suggest solder and tightly tape all connections.
Clean up the wiring with tape and split loom, and replace bulb with led bulb. At this point test to make sure you put the bulb in right (LED light are directional so if you plug it in backward its wont hurt the bulb, simply flip it around and it will light up) Once you have checked that your parking light works and turn signals flash properly. Now is a good time to swap HID bulbs or do the DRL light install. Reinstall the headlight and check again.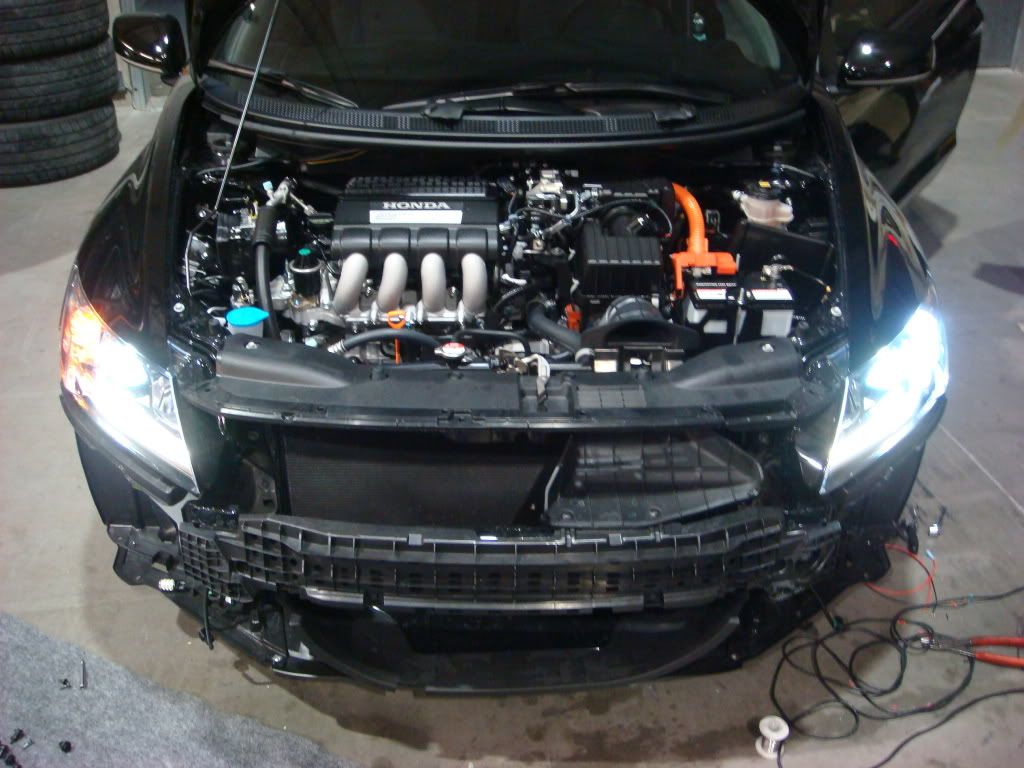 With the driver side done repeat the same steps for the passenger side. Once all is done and works reinstall the bumper. Now is a good time to swap those fog bulbs.
Use the buddy system, plug in fog lights and lift bumper into place then gently push the bumper into the channel under the headlights. Replace all clips by pushing them in and then push the center pin back in. When putting the clips in under the car there is a hole behind every clip hole that you can put your fingers in to pull the two panels together while securing the clip in it.
Check my other DIY topics for DRL bulb install, tail lights and HID bulb swap.