Discussion Starter
·
#1
·
DRIVELINE

MOTORING
NEW 2011 WORK Emotion 11R-FT - USA Exclusive Edition!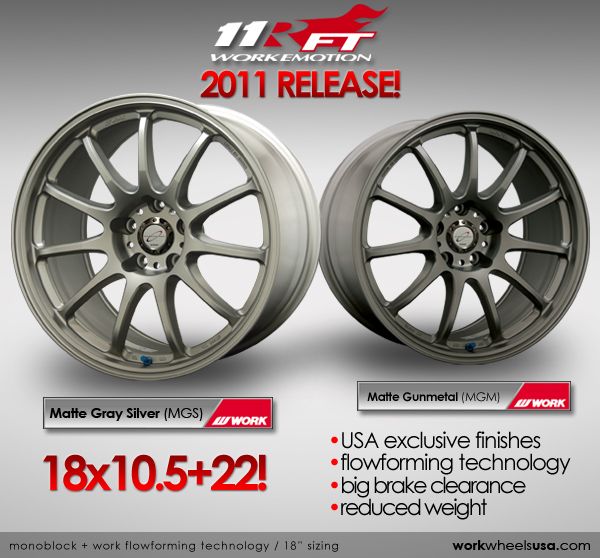 With 2011 right around the corner, there are many new additions to the WORK Wheels lineup.
One release we are specifically excited about is the "USA Edition" WORK Emotion 11R-FT. Featuring Matte Gray Silver (MGS) Finish & Matte Gunmetal (MGM) Finish, these are colors exclusive to WORK Wheels in the USA. On top of that, many of you looking for wider / aggressive fitment will be excited to see 18x10.5 +22 SIZING!
WORK Emotion 11R-FT USA Edition:
1) 18x10.5 Sizing:
The 11R-FT is the first Emotion series to have a 10.5" width in the 18" sizing
2) USA Exclusive Finishes:
Matte Gray Silver (MGS) & Matte Gunmetal (MGM) are standard finishes on this Emotion 11R-FT.
3) WORK Flowforming Technology (spun forming):
The key benefit for flow forming is able to reduce the barrel thickness, thus reducing the weight of the wheel without compromising the strength of the rim barrel. The 11R-FT is a good choice for motorsports racing use or at area where there are smoother roads. Unlike our competitors' flow forming wheels, WORK flow forming wheels start with low-pressure cast construction, whereas some of our competitors use lower quality gravity casting.
4) Big Brake Clearance:
Due to the design of the 11R-FT, it is very brake friendly to large OEM calipers along with many aftermarket calipers. The 18x10.5+22 will clear front OEM Brembos along with many aftermarket brake kits. Please always check with us and we can verify if our wheels will clear a specific brake kit.
5) Reduced Weight:
By using WORK Flowforming Technology, WORK Wheels was able to save on average ~2.2 lbs. per wheel, while maintaining the engineering strength and integrity.
6) PRICE REDUCTION:
In order to produce a competitive product to benefit our customers, we set this wheel at an attractive price point.
7) Proudly Made in Japan:
WORK Wheels quality is something we pride ourselves on, and this assures you that the product you sell is of the highest quality and engineering standards.