2011 CRZ EX, and 2011 CRZ Mugen 060/300
LIST OF ALL MODS
-> red pinstriping on grill
-> T1R side mirrors
-> Clazzio Black Vinyl w/ Red Leather Perforated Center Seat Covers
-> JDP Engineering carbon fiber spoiler
-> JDP Engineering carbon fiber front lip spoiler
-> 3M Scotchguard Paint Protection film: 2/3 of hood covered, and door handles/cups
-> Amber Lamin-x on fog lights
-> 20% metallic tint in all rear windows
-> 70% 3M Crystalline tint on driver/passenger windows
-> "If you sit here, you will die" sticker for 'back seats'
-> Heatshield winshield custom fit sun visor (from Amazon)
-> Red carbon fiber steering wheel emblem inserts
-> Team Heko window visors
-> SunTek Paint Protection Film for the headlights
-> Diffuser reflectors (gift from ArtJDM)
-> Password JDM Red and black washers for engine bay
-> Basis red radiator stays
-> PWJDM red rear tow hook
-> Red LED interior lights
-> Password JDM red battery tie down
-> LED fog light bulbs
-> Eibach Pro Kit Springs
-> Black Label Fabrication short ram intake
-> NRG Hood Dampers, carbon fiber
-> HKS Radiator Shroud, carbon fiber
-> BLF catback exhaust
-> T1R test pipe
-> 2006 Acura RSX Type S front brakes (the whole caliper)
-> Hawk HPS brake pads all around
-> HPS Silicone Radiator Hose Kit (Red)
(yet to be installed)
-> Spoon front sway bar with end links
Advan SA3R
Gen 2, Ver 1
-> staggered, with larger in rear
-> 17x8 +35 and 17x9 +38
-> Sumitomo HTR II summer tires
-> Tire sizes 215/40/17 and 235/40/17
-> gloss black paint w/ red accents of course!
AP1 S2000 WHEELS
-> 70.1-64.1 plastic hubcentric ring adapters from
HubCentric-Rings
-> painted Crystal Black Pearl
-> painted center caps CBP with red Honda "H"
-> bought extra OEM TPMS
-> 3mm hubcentric spacers
-> all season tires 205/55/16
OEM Wheels
-> used for winter
-> 205/55/16 Bridgestone Blizzak WS80
-> black steel lugnuts
-> Red "H" center caps
-> red plastidip + glossifier
WANTED FUTURE MODS
->
J'S RACING OIL FILLER CAP - RED
->
Samco Silicone Ancillary Hose Kit
-> Mugen carbon fiber rear view mirror cover [
http://www.kingmotorsports.com/p-4021-mugen-carbon-fiber-mirror-cover.aspx
]
-> slightly better than OEM 12V battery [
Auto Zone Part Number 151R-DLG
]
-----------------------------------------------------------
Yo! I first was a lurker on this forum for 6 months. I didn't think I would be able to get a Z until after I graduated college and got a real job. But I made a lot of money from my paid internships in 2012, so I was able to buy my used 2011 CR-Z EX in Dec 2012 a couple weeks before Christmas.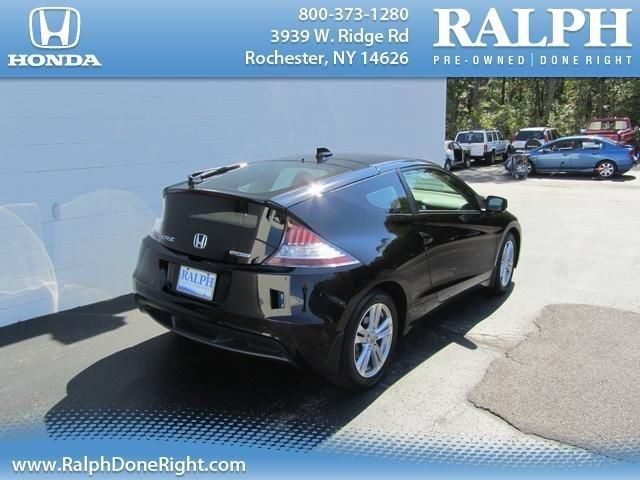 Most of my plans for this car are cosmetic, as I'm not very handy with mechanical stuff.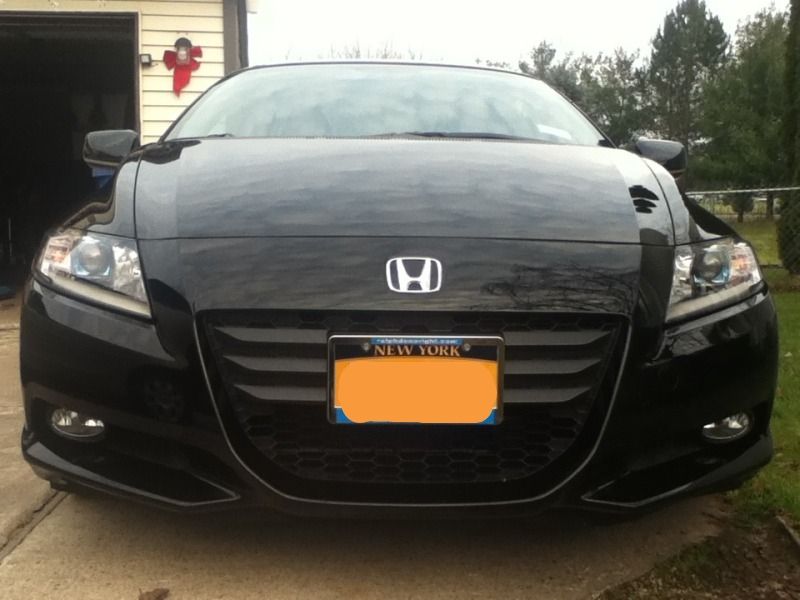 I have a bunch of stuff sitting in my room, waiting to be done. It's too cold and wintery to do any of it. Though I did buy and install Clazzios, red perf leather center and red stitching, on a 40 deg F day: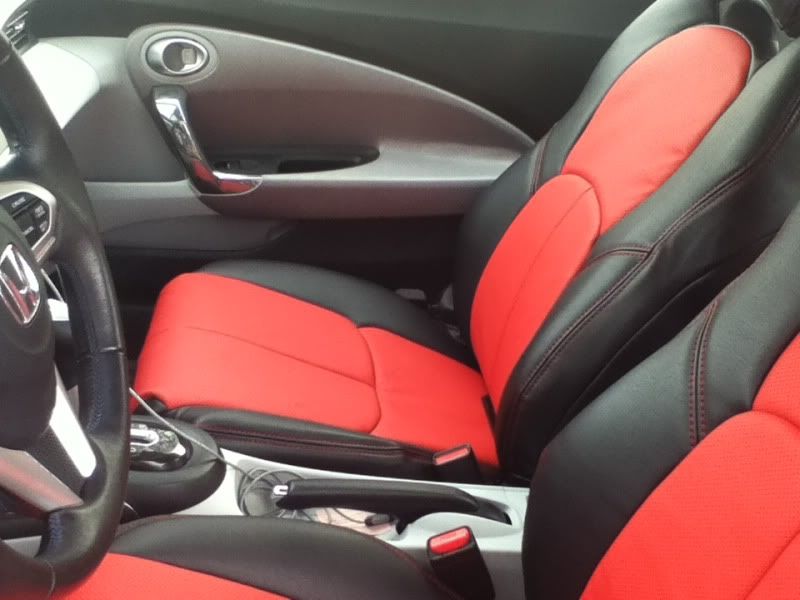 My two favorite colors are red and black, so most of my mods will have a red theme
Such as:
-red pinstriping on the grill, like Lady_CRZ did at one point
-red i-VTEC SOHC decals
-red plastidipped OEM wheels
-red plastidipped H badges
Mods that I have had done despite the weather:
-T1R side mirrors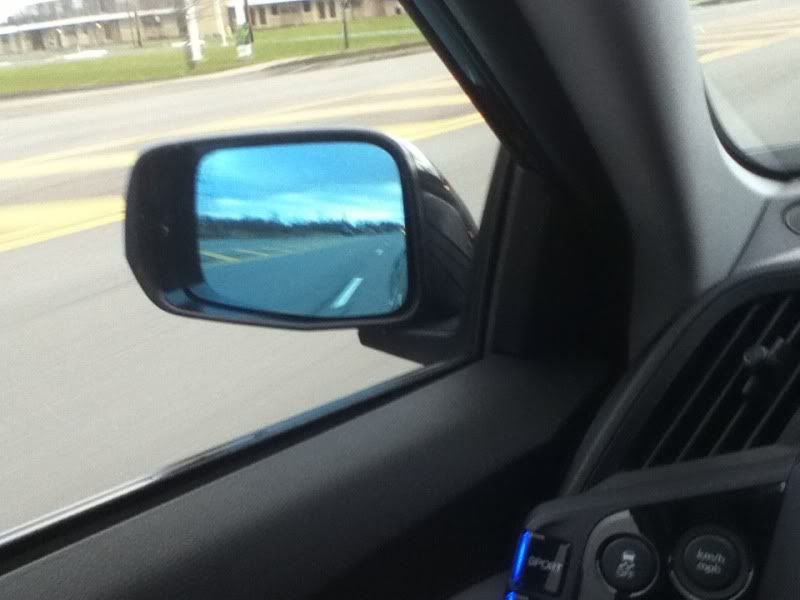 -tinted windows
EDIT: Removed driver/passenger tints due to receiving a ticket. Ticket was dismissed afterwards.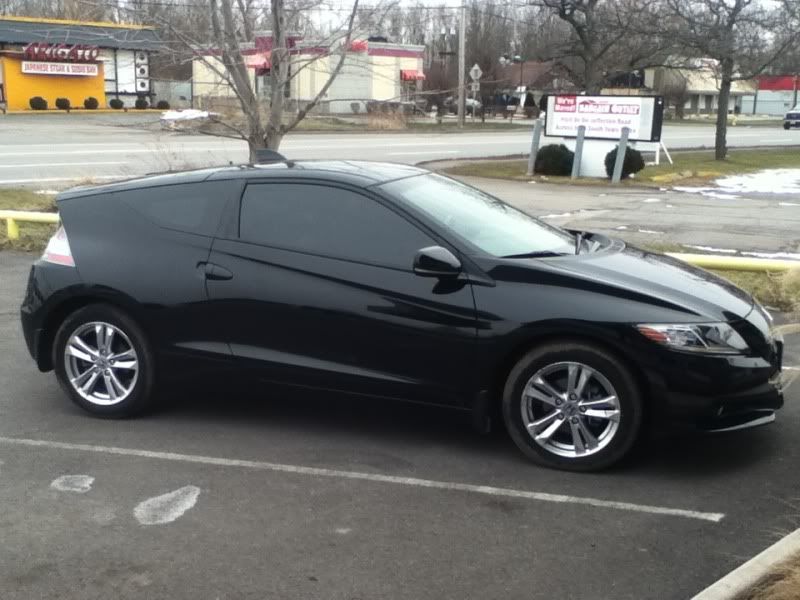 -3M Scotchguard PPF on hood, 2 feet of it
-3M Scotchguard PPF on door handles, and in cups
-clear Lamin-X on foglights
-OEM rubber floor mats
A couple of other plans:
I bought a lightly used JDP carbon fiber spoiler from hrdprkdclos. My dad works at a company that works with adhesives. He got me a roll of the best 3M double sided tape there is, EX v011 or something like that. I'm just waiting on it to warm up before I put on the spoiler.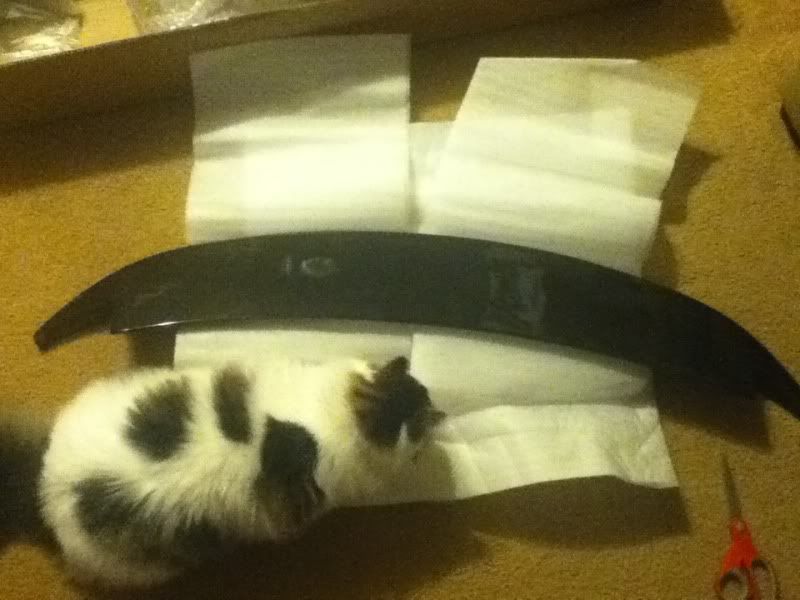 I do a lot of online surveys, and get money for them. Most of the time I transfer the money to my amazon account or paypal. I am waiting on buying the VTEC decals from a seller on eBay until I have some survey money in my paypal account. I am also waiting until I have enough money in my amazon account to purchase the K&N drop in air filter and the cleaner for it. Total will be $49.97, totally free to me
That will probably be one of the few mods for me that has to do with whats under the hood
At some point I may consider having a shop put red pleather on my doors, to cover up that awful gray stuff which is hard to clean.