Discussion Starter
·
#1
·
:wavey:
Hey Ya'll, just wanted to post up my track review using Swift Springs and OEM Honda shock combo. I co-own a shop in Garden Grove, CA called Ballade Sports and wrote a DIY on the spring install a few months back. I was also the first to test the springs for Swift in the US.
First Impression:
http://www.crzforum.com/forum/aftermarket-crowd/3132-swift-springs-making-springs-crz-4.html
DIY:
http://www.crzforum.com/forum/do-yourself-articles/3215-diy-lowering-springs.html
Anyway, this past Sunday I was able to road test the car at Streets of Willow race track in Rosamond, CA.
My current modifications are:
Swift Springs
Carbon/Kevlar Bucket Seats
Endless CC-R Brake Pads
Mugen MF10 17inch Rims
Yokohama Parada Tires 300 thread rating
My final lap time of the day was 1:37.0xx
Track Review: As I expected from any FF car I had a massive amount of understeer. I chose the Parada tires so I wouldn't loose mpg during daily driving, however these tires blow chunks at the track. Wish I was on Dunlop Star Specs or AD08 tires. Lol
There were previous reports from Eibach springs stating the VSA traction control was still operating even when turned off at Button Willow Raceway, however I did not have the same experience. I turned off the VSA and plowed through the turns without any issues of the VSA slowing me down. As for the Swift Springs they are very well received at the track for being only a lowering spring. The body roll was very tolerable and did not feel sloppy what so ever. The car could use a bit more camber in the front to add grip, so I think the next mod is going to be Eibach camber bolts off a Fit application. Being the spring rate on the swifts are not too aggressive, I was able to clip and jump burms with ease and with minimal deflection from running on stock bushings.
IMO the CRZ needs to be rewired so the IMA is on push button and not by throttle response. On the track there isn't enough braking and deceleration to charge the battery so I ran out of juice by my first lap. Since I never let the rpms drop lower than 5k you don't really notice if the IMA is helping or not.
All in all I had a good time, the car is fun to whip around the track and pass cars with lots more power!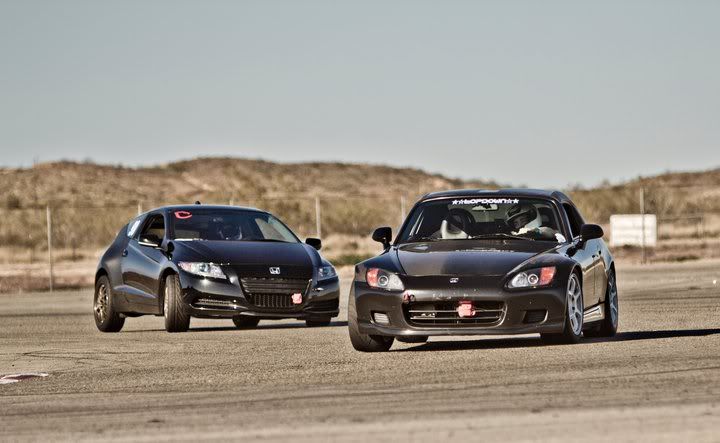 Just for reference here is My S2000 Build Thread:
★☆ 2004 Spoon S2000 Coupe ☆★ - S2KI Honda S2000 Forums